Metro Matters: Delhi must learn decongestion from Singapore
Mar 19, 2018 11:01 AM IST
Making drivers pay for the congestion they cause on roads is only fair. But levying motoring tax is more complicated than just installing electronic sensors. Getting people to agree to pay is the tricky part.
Asphyxiating on traffic congestion and toxic air, Delhi may finally get the polluters to pay.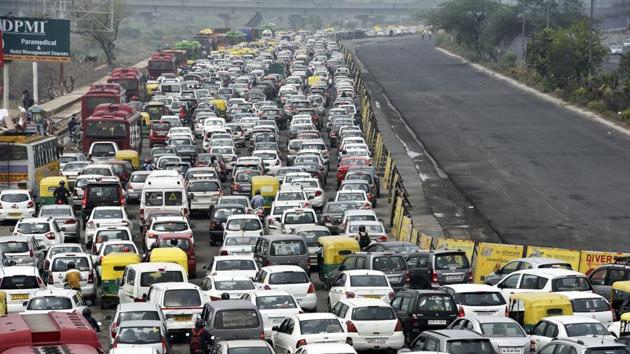 Lieutenant governor Anil Baijal and other administrative stakeholders have identified 21 stretches of roads in the city where congestion tax could be imposed, HT reported last week.
Later at a press conference, the L-G said the government could look at the Singapore model where vehicles "have an electronic system in place to deduct the fee" when they enter "a highly congested zone during peak morning and evening hours."
Making drivers pay for the congestion they cause on roads is only fair. Especially in Delhi where 10 million vehicles have cut the traffic speed by half. But levying motoring tax is more complicated than just installing electronic sensors. Getting people to agree to pay is the tricky part.
For the planners in Singapore, which in 1975 became the world's first country to levy a congestion tax on vehicles entering its central district, selling the idea to its citizens was the biggest challenge, said AP Gopinath Menon, a former chief transportation engineer of the city-state, in an email.

Menon, who was part of the working group that enforced congestion pricing four decades ago, recalled how it took a year-long dialogue to convince people about its benefits. A controlled state, Singapore need not have done that. But Menon said his government tried to make the deal palatable by promising better land-use, smoother traffic, new roads and, most importantly, better public transportation.
Today, 185-km of high-speed expressways and 500-km of major arterials give access to all parts of the island state. While the bus system has been tremendously improved, the mass rapid transit of about 200km is still being extended, said Menon. He added that the strict land-use regulations ensure that traffic congestion and car parking issues do not get out of hand.
Almost forty-three years running, Singapore's is the world's most comprehensive road-pricing system. But it has only been "accepted reluctantly" by its people, said Menon. However, what did help was the system's high credibility that assured the motorists that they would not be charged wrongly, he added.
For this, the system had to undergo several upgrades. When it was launched in 1975, drivers had to display a pre-purchased windshield license. In 1998, the system became electronic. By 2020, motorists will be charged according to the distance travelled based on their cars' global positioning system.
But what really made the scheme a success was the availability of reasonable public transportation options. As a result, while congestion pricing is raking in annual revenue of $50 million, the scheme has encouraged 65% of commuters to use public transport, the Guardian reported.
It is here that Singapore has lessons for Delhi where the bus fleet size has hit an eight-year low. The Metro network is expanding but the last-mile connectivity options are grossly inadequate. "Residents are proud of the well-run Metro, but Delhi may also consider further improving the bus services by giving it a priority," Menon suggested. While public transport can never give the same convenience as private transport, he added, it is possible to narrow the gap in their standards.
Road-use restrictions are never a smooth ride. The British capital introduced a congestion tax in 2003 and, in the following decade, the number of private cars dropped sharply in London's restricted zones. But the space vacated has got filled up by ride-hailing and private-hire cabs and delivery vans.
Delhi too failed to remove enough vehicles from roads under its odd-even road rationing scheme in 2016, because the government granted too many exemptions. In Singapore, however, only emergency vehicles such as fire tenders, ambulances and police cars are exempt. "Once you open up to special groups, there will be no end to demands for exemption. Even residents within the area are charged in Singapore," said Menon.
A fair criticism of road pricing is that such policies are designed to accommodate the rich while the rest get priced out. The only remedy, Menon said, is to focus — like Singapore did — on improving the alternative public transport for those who cannot or do not want to pay.
Going beyond road pricing, Singapore scored another first in 1990 by introducing its Certificate of Entitlement (CoE) for new car buyers, who must place a costly monetary bid to have one. Starting last month, it has set the target to cut the annual growth rate for cars and motorcycles from 0.25% to zero.
Such innovations have been forced by Singapore's physical limitations. An island country with no hinterland, it could not just keep building roads to accommodate more traffic. While Delhi enjoys the luxury of expanse, it has already squandered that advantage. Our national capital is barely double the size of Singapore but its fleet of private cars is six times larger than that of the city-nation.
It is time we started treating this arteriosclerosis.