Murdered Delhi photographer Ankit Saxena's family organises iftar at home
Ankit Saxena's father organised an iftar party with the help of his neighbour Mohammad Izhar Alam.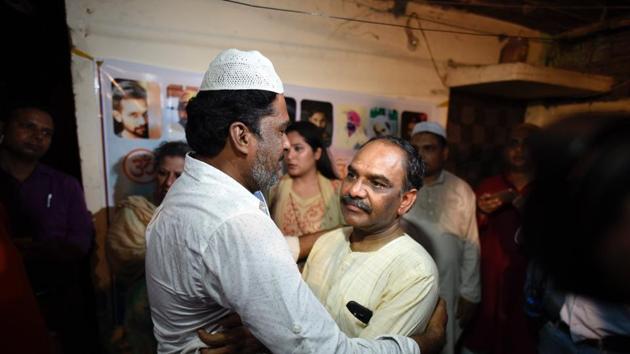 Updated on Jun 04, 2018 08:30 AM IST
Nearly four months after Raghubir Nagar in west Delhi lost one of its residents to what police said was a case of "honour killing", when the clock stuck 7.17 pm on Sunday evening, over hundreds of people gathered at a lane in the area to partake in an iftar party. They wanted to spread the message of peace by remembering the local Hindu boy who was killed because of his relationship with a Muslim woman.
Ankit Saxena, 23, a freelance wedding photographer, was murdered in front of his family in February by the relatives of a woman he was courting since they were opposed to the inter-faith affair.
Five months after the incident, his father Yashpal organised the iftar on Sunday with the help of their neighbour Mohammad Izhar Alam. Alam's family, Ankit's friends and neighbours pitched in to cut fruits, make roohafza (a cool drink) and distribute food among people who gathered to attend the iftar outside their home.
In attendance were not just their neighbours, but also former bureaucrat and activist Harsh Mander and Gorakhpur doctor Kafeel Ahmad Khan. A poster with several photographs of Ankit Saxena, including one wherein he is seen wearing a skull cap, and another in which he is seen wearing a turban, adorned a wall in the lane.
"Alam is like my brother and he suggested we can do this. I really liked the idea but I did not know how to do it so he said he would arrange everything. We hope this will help spread the message of peace and harmony," Yashpal said, adding, "I thought we should do this as it would be an auspicious start to the trust that I have set up in Ankit's name."
Ankit Saxena and his girlfriend lived in the same neighbourhood and were reportedly in a relationship for two years.
Speaking on the side of the iftar party, Yashpal said, "I want them (the accused in Ankit's murder) to be hanged. But I won't hate everyone from their community just because they belonged to it. There should be love and peace. My only child is gone but I want his name to live forever."
Meanwhile, while eating their meal, neighbours recalled what a happy-go-lucky man Ankit was. Pushpa Otwal, a neighbour, said she knew Ankit since his childhood and that she had come to attend the iftar in his memory. "I have never attended an iftar in my life and I didn't know what it is like. But Yashpal ji explained it is just like how we fast during navratras. This is a very good step," she said. Mander said, "This is a message for humanity... many of us are not fasting but when we sit together and eat, it sends a message that we are brothers and sisters," he said.
Kafeel, the suspended paediatrician of the BRD Medical College in Uttar Pradesh's Gorakhpur, said Ankit's father has set a big example.
Close Story
Personalise your news feed. Follow trending topics