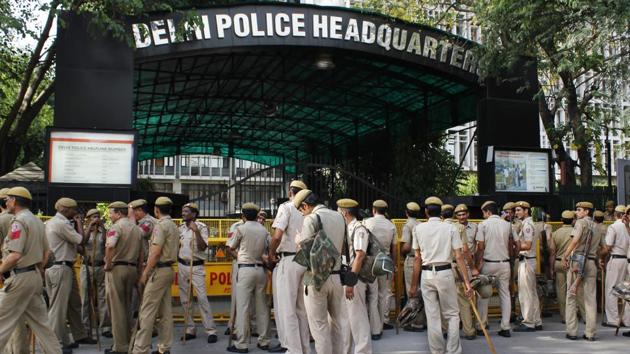 No conviction in 150 sexual harassment complaints against Delhi Police staff
Rights activists say reporting crimes to police can sometimes be daunting, and complainants can face more harassment, from being asked for bribes to sexual favours in the case of women.
UPDATED ON NOV 22, 2017 07:18 AM IST
At least 150 Delhi Police personnel were or are being investigated, or are facing charges over allegations of rape, molestation and sexual harassment over the past six years, but none has been convicted, Hindustan Times has found. In 122 cases, the investigations are on, or the charges have been filed. In the other 28, the policemen involved have been acquitted.
The allegations also include stalking, inappropriate touching and trying to have "unnatural sex" with women, some of whom had come to a police station for help. Among the complainants were three policewomen who accused their seniors of sexual harassment.
The information is based on replies Hindustan Times received from 38 of Delhi Police's 45 departments under the Right to Information law. The rest did not respond.
Delhi Police spokesman Dependra Pathak defended the force's record in dealing with sexual harassment.
"We take action with speed and certainty," he said. "We have institutionalised the process of gender sensitisation of police force and our vigilance department is proactive in such cases."
The policemen involved belonged to four categories of employees: Constable, head constable, assistant sub-inspector and sub-inspector.
Crimes against women remain largely under-reported in India, especially workplace harassment, despite stringent new laws and better enforcement. Far less focus is laid on the conduct of the police that are dedicated to protecting citizens.
Rights activists say reporting crimes to police can sometimes be daunting, and complainants can face a barrage of harassment from being asked for bribes to sexual favours in the case of women.
In one instance, a woman alleged that a constable and his son raped and beat her up in 2015. The policeman was arrested on her complaint and a court is hearing the case, one of the RTI replies from Rohini (south) police station said.
An assistant sub-inspector was accused by a woman of trying to have "unnatural sex" with her last year, another response from the Subzi Mandi police station in north Delhi said.
Two women victims Hindustan Times spoke to alleged mental torture and threat from senior officers when they went to police station to file a complaint.
The first victim, who refused to be named for fear of persecution, said she was "groped and touched" by a head constable last year. "When I filed a case against the head constable, an ACP [assistant commissioner of police] tried to convince me not to go ahead," she said.
"They threatened me indirectly saying that 'police would never cooperate with you if you get into any trouble in future'."
To be sure, the Delhi Police did act against some of the 150 accused. In 30% cases, the accused, while standing trial, were demoted by up to four years after departmental inquiries. Two constables were dismissed after such internal inquiries.
Should these dismissed and demoted employees win their court cases they can be reinstated and their dues paid.
But activists say many women who go to file complainants at police stations face hostility.
"Complaining against police personnel is very difficult because they are in a powerful position to negotiate. By and large, victims are pushed to withdraw their cases," said Ranjana Kumari, director of the Centre for Social Research.
The second victim cited above told Hindustan Times that a constable from Rajouri Garden police station used to stalk her before asking for sex.
"He threatened me with dire consequences if I filed a complaint," she said. The Delhi Police is looking into her complaint against the constable.
Close