Police bust illegal online 'casino' in east Delhi, 14 held
Hindustan Times, New Delhi |
, New Delhi
Karn Pratap Singh
Sep 18, 2018 09:41 AM IST
The Delhi Police on Sunday busted an online gambling racket running out of a residential building in east Delhi's New Ashok Nagar
The Delhi Police on Sunday busted an online gambling racket running out of a residential building in east Delhi's New Ashok Nagar.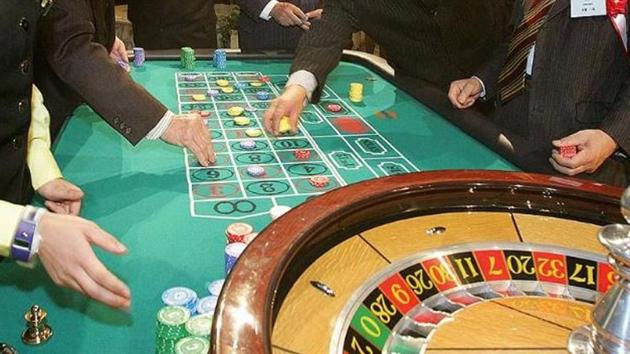 A total of 14 persons, including 12 alleged gamblers, the owner and manager of the "casino", were arrested.
The alleged mastermind of the gambling racket, identified by the police only by his first name Deepak, remains absconding, police said.
Police officials suspect the operation could be linked to a money laundering racket as well. Police seized ₹39,130, a diary listing transactions and customer names along with 10 computer systems among other items.
Deputy commissioner of police (east) Pankaj Singh said for the past few days, they had been receiving information about an online casino racket operating in New Ashok Nagar area.
On Sunday, the police team received a tip-off that some people were illegally gambling on the first floor of a three-storey building in the area.
"Our team raided the flat and found 12 people gambling online. The entire flat had been turned into a makeshift casino parlour and 10 computers with Internet connections had been installed in the house solely for gambling," said Singh.
Amit alias Guttan, the owner of alleged casino, and his manager, Neeraj, were arrested along with 12 customers. All of them were later released on bail after they were booked under sections of Delhi Public Gambling Act, the police said.
Police said, preliminary investigation revealed that Deepak was linked to an organised online casino racket. He had provided Amit and Neeraj with login ID and password of an online account created on a gambling website which they were allegedly using to play roulette.
Explaining their modus operandi, an officer said that a group was created on WhatsApp in which regular customers or those having reference other group members were added. No outsiders were allowed to be part of the group. Once an entry fee was paid, customers were given the password using which the game could be played on a computer, said the police.
"Roulette was the most popular game for these people because the winner was given a return which was 36 times the money they gambled," said a police officer associated with the operation.
Amit's questioning revealed he had previously been involved in similar offences. "Amit has told us that he was earlier running the online casino parlour in Noida. He had shifted it to the New Ashok Nagar flat just a fortnight ago. His customers were small-time traders, auto-mechanics among others," the officer added.
Police are also looking for Murari Lal, the owner of the building.