Pre-monsoon rain keeps Delhi cool, ends sticky heat
Meteorologists in New Delhi say the monsoon, which had been running behind schedule, has gathered momentum and can arrive in Delhi by June 30.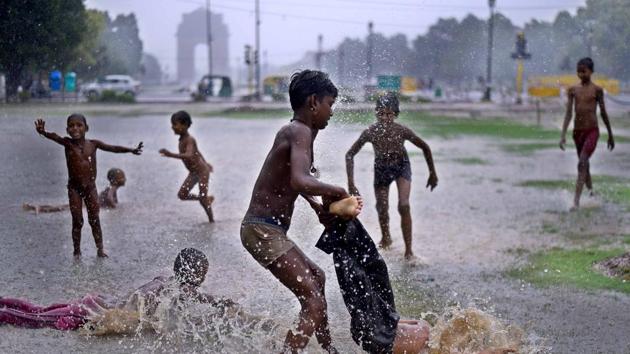 Updated on Jul 16, 2017 07:22 AM IST
NEW DELHI: After eluding for nearly two days, the rain finally hit Delhi on Wednesday afternoon. The monsoon is also around the corner, Met department officials said.
Meteorologists of the Regional Weather Forecasting Centre (RWFC) in New Delhi had predicted that rain was likely to hit Delhi from Monday night. But it didn't.
Instead, Delhiites had to bear the two-pronged attack of high temperature and high relative humidity. The weather became muggier and the city residents experienced a sauna-like condition.
"The trough, which is an extended low pressure region, was passing through Rajasthan, Madhya Pradesh and Bihar. We had expected it to shift northwards in the direction of Delhi, it would have brought some rain. But it didn't and hence, the city remained dry. We expect it to shift towards Delhi on Wednesday and the city could get some light rain," a senior RWFC official had said.
On Wednesday, however, Delhiites woke up to a cloudy morning. The sky opened up in the afternoon and the city received around 15.6 mm of rain till 5.30 pm. After the gap of a few hours, rain lashed the city again from around 8.30 pm.
Met officials also claimed that the monsoon, which has been delayed, has gathered momentum from Sunday and could hit the city by Friday.
"The monsoon is fast approaching. On Tuesday, it advanced further and covered some parts of north Arabian Sea, Gujarat, south Rajasthan and Madhya Pradesh. It is expected to reach Delhi in the next 48 hours," said the official.
Sometimes, the monsoon current is strong enough and advances on its own. But at times, it needs some 'push' or a 'drag' to advance over the Indian land mass. Certain atmospheric conditions such as a cyclonic circulation, a low pressure or a depression in the sea provide this push.
Met officials claimed that while a cyclonic circulation over Odisha is pushing the monsoon from behind and helping it to penetrate further inland, a few other systems across central and north-west India are paving the way for its onset in Delhi.
"With conditions becoming favourable for the monsoon and easterly winds blowing in, we are expecting more rains throughout the week," said an official.
On Wednesday, the mercury level dropped to around 35 degrees Celsius°C 39.4°C recorded on Tuesday.
"We expect the mercury to dip further to around 31°C. The temperature would remain around 31°C- 32°C throughout the week," the official said.
Close Story