Wrote to police for security thrice, but didn't get any: Umar Khalid
An unidentified man allegedly attempted to shoot the JNU scholar outside the Constitution Club, just 500 metres from Parliament House, on Monday.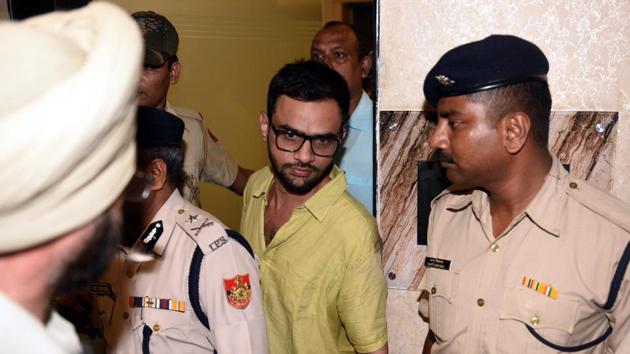 Updated on Aug 15, 2018 02:42 AM IST
Hindustan Times, New Delhi |
Anvit Srivastava
JNU PhD scholar Umar Khalid said on Tuesday that he had written to the Delhi Police thrice, seeking security but is yet to get any.
On Monday, an unidentified man had allegedly attempted to shoot him outside the Constitution Club, just 500 metres from Parliament House.
The student leader, who was one of the Jawaharlal Nehru University students police arrested in February 2016 for allegedly raising seditious slogans, remained at his south Delhi residence on Tuesday and said he would meet the police officers only if they provided him a police vehicle.
Khalid said he was "surprised" that he hasn't received security despite receiving "multiple threats" in the past, not to mention the attempt on his life just 24 hours ago.
On Monday afternoon, Khalid survived an attempt on life after his friends rescued him from an unidentified man who pounced on him outside the Constitution Club. Police later found a pistol at the spot and a bullet was found stuck in its chamber.
"It takes one bullet to kill anyone. It does not matter if it is fired from gangster Ravi Pujari's or Amit Jani's gun. My three applications requesting security are pending with the police. In March 2016, I wrote the first application. I again wrote to them two months ago and then, the third one, last week. Are they waiting for a repeat of a Gauri Lankesh case (assassination)?," Khalid said.
In February 2016, Khalid's father, Syed Qasim Illyas Rasool, filed a police complaint alleging that gangster Ravi Pujari, an alleged aide of underworld don Chhota Rajan, had made death threats over the phone.
Amit Jani is a self styled leader of a group called Uttar Pradesh Navnirman Sena. Jani was arrested in April 2016 for threatening to kill Khalid and former JNU Students Union president Kanhaiya Kumar.
On Tuesday afternoon, Khalid remained at his parents home in Okhla. "Police called me today. They wanted to speak to me regarding the attack. I asked them to send me a police vehicle. Since then, they have not responded. Pujari called my father and threatened to kill both him and me. That time, my father got police protection but my requests remain unattended," he said.
Police denied not attending to Khalid's request. Special commissioner of police (special cell) MM Oberoi said Khalid was requested eight times to appear before a police team.
"We need to analyse the threat perception and the type of security to be provided. All eight times, he could not make himself available and, therefore, things are still in process."
Dismissing reports on social media that the attack was politically motivated or staged, Khalid said, " Those who are saying such things do not belong to the investigating agency. Police are the agency authorised to probe. I will cooperate with the probe. We must leave the probe to them," he said adding that fringe organisations, which could be affiliated to any political party, may be behind the attack.
"I am not pointing fingers at anyone but we know who all are celebrating the incident. These are the people from organisations that celebrated Gauri Lankesh's murder," Khalid said.
Khalid said he is yet to plan his next move but one thing is for sure he said — " I will continue to raise the voice against the politics of hatred and impunity".
Close Story