300 shantis razed down in demolition drive in Mehrauli
Updated on Dec 08, 2016 10:23 AM IST
A total of 300 hutments were demolished in the two-day drive.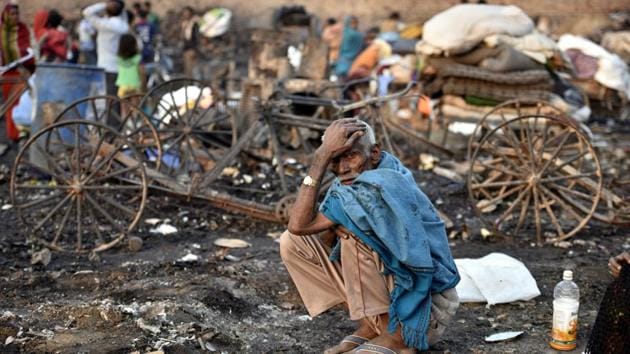 Sabrina has been forced to spend cold nights under the open sky with her two kids as her jhuggi at Kishangarh village in Mehrauli was razed in a demolition drive by the municipal corporation on Monday.
Two days after the incident, she hasn't left the spot that used to be home because she has nowhere else to go. She lost all her belongings. She says demolition started without any "pre-intimation or notice". All she could save was few old currency notes and her two kids.
"They came around 10 am and started demolishing the shanties," said Sabrina.
"I tried renting a room with the money I managed to save, but I realised that old currency notes are not accepted anymore. I never found myself so helpless," said Sabina who lived at the spot for five years.
A few metres away was Halima, trying to fish out utensils and torn clothes from the debris. Her jhuggi was demolished on Tuesday, a day after Sabrina's.
A total of 300 hutments were demolished in the two-day drive.
Though she had a day's time to move from the place and save her belongings, she did not as the officials allegedly assured her the drive will not go on. "It was only after their assurance that we decided not to move. But it was a mistake to trust them," she said.
A senior Delhi Development Authority (DDA) official said the drive was carried out as per Delhi High Court's order. The land belonged to DDA and was handed over to the South Delhi Municipal Corporation for maintenance.
"Later, it was encroached on by a local resident who claimed to be its owner. He started renting out the place to jhuggi dwellers and to store construction material," said the official.
When the corporation tried to evict him, he approached the court. "He failed to prove ownership and both authorities decided to carry a joint demolition drive," said an SDMC official
However, jhuggi dwellers say they have been caught in between, especially, with no relief measures.
Deputy commissioner (revenue) Amjad Tak said the department did not get any prior information about the drive. "We were intimated on Tuesday night by the department and after that only relief work started. Considering winters have started, we immediately arranged for tents at a vacant place, food from a neighbouring gurdwara and made some lighting arrangement."
However, he wasn't sure how long the arrangement could go on, considering that many more displaced jhuggi dwellers taking shelter there.
The Delhi Urban Shelter Improvement Board (DUSIB) — constituted to look into all demolition drives — claimed that DDA did not inform them either.
"We got information from the deputy commissioner's office on Tuesday, after which…we arranged blankets, movable toilets and other handholding facilities," said Vinay Jain, DUSIB chairman.
Personalise your news feed. Follow trending topics