Art of Living event an ecological disaster, says Delhi high court
Mar 09, 2016 10:21 PM IST
The Delhi high court said on Wednesday Art of Living's World Cultural Festival is an "ecological disaster".
The Delhi high court said on Wednesday Art of Living's World Cultural Festival is an "ecological disaster".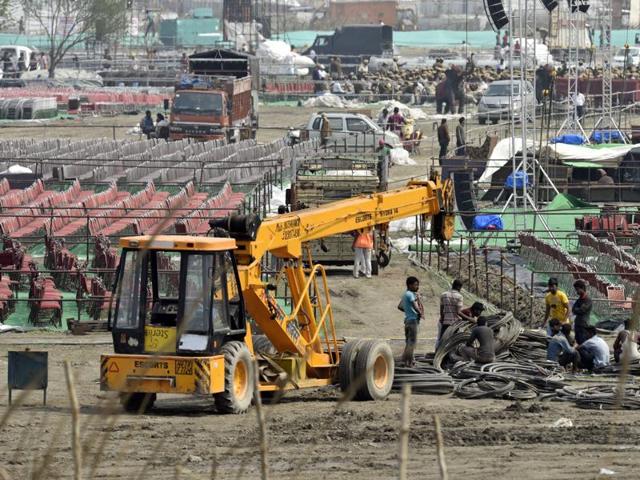 The National Green Tribunal, which was hearing a petition against the festival, did not stay the event. It will go ahead as planned from March 11 to March 13 on the Yamuna floodplain.
A bench of justice BD Ahmed and justice Sanjeev Sachdeva, taking cognisance of news reports about the event, said: "That (AOL event) is a disaster from ecological point of view due to removal of the shrubs and trees. The area has been flattened."
"You (government) have given permission for a big pandal on the floodplain," the bench said while hearing a public interested litigation against illegal constructions on the floodplain at Jaitpur and Mithapur.
Read: Art of Living gets go ahead for Yamuna bank event, fined Rs 5 crore
The court said the government should consider making the structures in the area compliant with building by-laws as well as seismic zone IV norms in case unauthorised colonies there were to be regularised.
The bench observed that it was important for such structures to conform to building rules because they are more prone to earthquakes and flood. "There could be massive loss of lives," the judges said.
The court suggested that the lieutenant governor, the Delhi Development Authority (DDA) and the municipal corporation should penalise builders who "duped many poor people" into buying houses in that area. "Even if demolition is not carried out, police action should be there," the bench said.
DDA's counsel additional solicitor general (ASG) Sanjay Jain told the court that a recent meeting of a joint task team, set up to address the issue, decided to check more construction in Jaitpur and Mithapur.
The ASG said to check illegal buildings the government has installed CCTV cameras, prosecuting people engaged in fresh construction, seizing building material enhanced police patrolling in the areas.
The NGT on Wednesday slapped an initial fine of Rs.5 crore on spiritual guru Sri Sri Ravi Shankar's Art of Living, but declined to stay the holding of the World Culture Festival on the fragile Yamuna flood plain.
It also pulled up the government, saying the authorities had failed to discharge their duties.
The tribunal also imposed a fine of Rs 5 lakh on the Delhi Development Authority and a fine of Rs 1 lakh on the Delhi Pollution Control Committee.