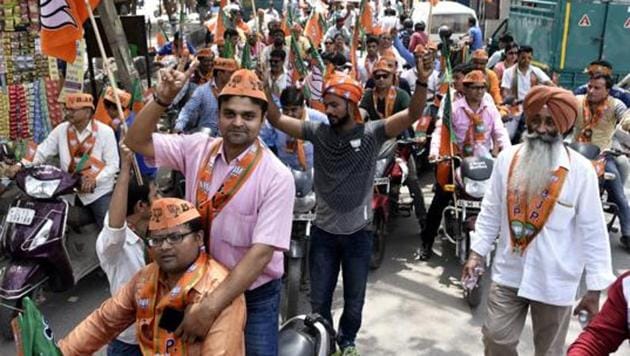 BJP to seek explanation from 3 Delhi unit leaders for 'poor coordination' in MCD polls
A report by an independent observer appointed by the party leadership said division in the Delhi unit peaked in the middle of the election campaign with all three general secretaries working 'separately'.
UPDATED ON MAY 10, 2017 09:51 AM IST
The BJP has decided to seek explanation from its three general secretaries of the Delhi unit after a report by an independent observer said that they acted 'separately' and broke away from the party's strategy and protocol during the recent civic elections.
The observer, which was appointed by the central leadership to oversee the municipal elections in the national capital, underlined fissures in the state unit.
Sources in the party said the report submitted to BJP president Amit Shah says there was no coordination among leaders during election campaign and it was poorly planned. "The central observers noted that division in the party peaked in the middle of the election campaign. A few of state office bearers were seen promoting themselves violating all norms," said a party insider.
The report also pointed out that the three general secretaries, instead of focusing on party's strategy to ensure well coordinated joint efforts, were apparently working 'separately'. "They made sure that they remain on the stage on every occasion and never missed any opportunity to be clicked with senior party leaders. Because of their lack of understanding, 'wrong' photos of Prime Minister Narendra Modi and Amit Shahji were used in initial campaign posters," said a source.
A party functionary said the senior party leadership is not pleased particularly with three Delhi BJP general secretaries, Kuljeet Singh Chahal, Ravinder Gupta and Rajesh Bhatia, whose photographs are found on party posters nowadays, which has not been a practice in the past.
Sources said taking a serious note of series of protocol breaches, the state leadership has decided to seek explanation from three office bearers.
"Initially, the leadership ignored all these activities thinking it was unintentional. However, at the fag end of the campaign, it became annoying. Hence, the party has decided to ask for explanations," he said.
"Ignoring senior party leaders, their images were frequently being used in posters, banners, and hoardings. During the 'Vijay Parv Diwas', held to celebrate party's victory in municipal elections attended by president Amit Shah, their photos were used on posters. Earlier, only their (general secretaries) names were printed with the picture of state president in posters or banners," he said.
Sources said it was after the intervention of state unit chief Manoj Tiwari, pictures of his predecessors Vijender Gupta and Satish Upadhyay were placed on the campaign rath.
Close