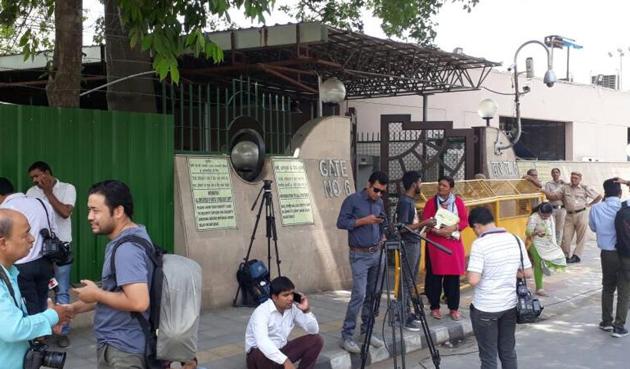 CBI raids Delhi secretariat: Former health secretary booked for 'high-cost' hospital security
CBI is probing involvement of former Delhi health secretary Tarun Seem in "wrongful" engagement of security agencies. AAP minister Satyendar Jain is also facing CBI inquiry for alleged money laundering.
UPDATED ON MAY 06, 2017 05:51 PM IST
Former Delhi government health secretary Tarun Seem was on Thursday was booked by the Central Bureau of Investigation (CBI) on allegations that he wrongfully hired private firms to providing security to seven city hospitals.
Seem is known for piloting the AAP's mohalla clinic plan.
Doctor Seem was relieved from his post last year and is currently posted as the director of Delhi's health mission which falls under the state government's health department.
CBI officials said that Seem and three private firms, which specialise in providing security personnel, have been booked under conspiracy and corruption charges of the Indian Penal Code and the Prevention of Corruption Act. Subsequently, the agency followed up their action by conducting raids at Delhi secretariat and residence of the senior bureaucrat.
Reacting to the CBI raids, the AAP again accused the Centre of misusing the CBI against its party leaders. AAP leader Sanjay Singh took to Twitter: "Soon, everything came to normal in the AAP; the central government today left its parrot (CBI) behind Satyendar Jain. They kept on disturbing us and we kept on working."
The probe agency said Delhi based Knight Watch Security Pvt Ltd and SIS (India) Ltd, and Innovision Ltd in Gurugram were chosen to provide security personnel at government hospitals.
"Undue benefits were allegedly given to these three security agencies, including payments in excess of norms and thereby causing a loss of ₹10.5 crore (approx) to the public exchequer," a CBI official said.
A Delhi government official said the agencies were hired at higher rates but their contracts were not renewed.
"After the strikes by doctors, the best security agencies were hired but their rates were higher than our tender rates. So, they were given a special contract for six months. After the contract period was over, it wasn't renewed. So, some people allege that some sort of 'setting' happened," said an official.
Officials added that the FIR into the case was preceded by a preliminary investigation, which the agency carried out after former L-G Najeeb Jung had referred the case last year.
Seem was made Delhi's health and family welfare secretary in February 2016. He was relieved from the post by Jung in August 10. Seem was also holding the post of Delhi's director general of health services from which he was relieved in October last year.
Officials said that searches were conducted on Thursday at Delhi and Gurgaon on official and residential properties of the accused and the said firms.
AAP MLA Saurabh Bharadwaj said the raid is nothing, but an attempt to instil fear in the minds of the officers and the party leaders to discourage them from doing "good work" for the people.
(With inputs from Anonna Dutt)
Close