Delhi govt forms six task forces to decongest roads, ease traffic jams
Updated on Jan 25, 2017 05:40 PM IST
The Delhi Transport department has formed six task forces in the east, west, north, south, central and outer districts. Each task force will be headed by the district's respective deputy commissioner of police (traffic).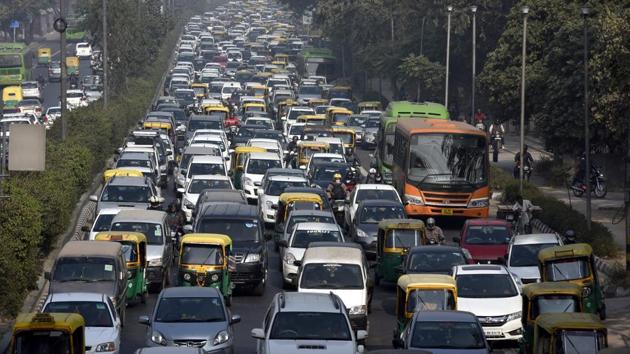 As traffic snarls continue to choke the national capital, the Delhi government has constituted a number of task forces to identify major bottlenecks in the city and offer solutions to decongest them.
Hindustan Times had earlier highlighted the traffic mess in the city through a month-long series 'Unclog Delhi', during which experts stressed the need of an umbrella body that could coordinate with the multitude of authorities to come up with an integrated transport plan.
In an order issued on Tuesday, the state transport department formed six task forces on the basis of ranges (east, west, north, south, central and outer) which will be headed by the respective deputy commissioner of police (traffic). To improve coordination among various agencies, senior officials from multiple agencies like the NHAI, transport department, MCDs, Public Works Department (PWD), DTC and DDA have also been made members of the teams.
The task forces have been asked to submit decongestion reports for their area by February 23. "Apart from identifying bottlenecks causing snarls on major roads in their jurisdiction and suggesting short, medium and long term solutions for smooth flow of traffic, the STFs will need to provide a time frame for completion of the decongestion task," said a transport department official.
Read more: To unclog Delhi, hop into a streetcar named strategy
Another important issue that would be looked into by these teams would be that of encroachment. "Identifying stretches where unauthorized or illegal parking is rampant is a priority. The teams will have to suggest remedial measures for that too," he added.
The move comes after Lieutenant Governor Anil Baijal on January 19 had instructed the Delhi Traffic Police and all other stakeholders to decongest the city's roads by setting up a special task force for intelligent traffic management system in the capital.
"The Lieutenant Governor expressed serious concern over the frequent traffic jams, encroachment on the roads / below the flyovers, safety of pedestrians and violation of traffic rules in Delhi… In order to identify bottlenecks leading to traffic jams on major roads in Delhi and to prepare a time bound action plan for smooth flow of traffic on those roads, the task forces, as per annexure... is hereby constituted," the order issued by special commissioner (transport), KK Dahiya read.
In a presentation given to the L-G, the traffic police had explained its preliminary plan to decongest three major stretches in the city—Dhaula Kuan, Mathura Road and Aurobindo Marg. They recommended setting up of foot overbridges at some points like Yusuf Sarai, AIIMS, Aali Village and Nizamuddin. Regulation of movement of buses was also suggested.