CCTV footage: Woman throws 2-year-old son from first floor in a fit of rage
Updated on Feb 20, 2017 10:54 AM IST
The 26-year-old woman argues with father-in-law, throws clothes around and then picks up her son and throws him down the staircase. Police say they will check the medical history of the woman.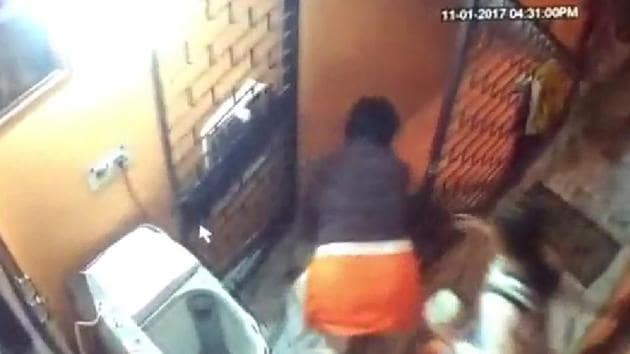 A shocking CCTV footage has emerged showing a 26-year-old woman throwing her two-year-old son off a staircase from the first floor of her house in a fit of rage. The incident was reported from southeast Delhi's Pul Prahladpur area on January 24.
Following a complaint from the kid's father, Nitin Gupta, a businessman, the police have registered a case under Section 308 of the IPC (attempt to commit culpable homicide) against the woman, identified as Sonu Gupta.
The footage accessed from two CCTV cameras installed inside their house shows Sonu sitting on her bed, fighting with her in-laws, while her child, Anshu, was sleeping beside her.
As the recording proceeds, the woman is seen getting hysterical. She throws things around, picks up her child, goes to the staircase and throws him off. Her in-laws then go down to save the child.
According to the police, the child has sustained severe injuries on his head and face.
While the recording shows that the incident happened on January 11 around 4pm, the complaint was filed to the police 12 days later on January 24.
DCP southeast Romil Baniya confirmed the incident. "On January 24, we received a call from Nitin Gupta saying that his wife threw his son off the staircase. We recorded his statement and took the child for medical examination at AIIMS trauma centre. A case was immediately registered against Sonu Gupta and the investigation is on."
Although the footage shows the woman committing the crime, no arrest has been made in the case yet.
Sources said that the woman was called for questioning but she did not open up about the incident. "Though it appears that she did it in a fit of rage, the motive is still unclear," a police officer said.
Police said that they will be checking the woman's medical history as her in-laws have alleged that she is short-tempered and often threw a fit. They have stated that Sonu often picked up fights on petty issues and went out of control.
"These claims have, however, not yet been verified. It is also possible that the in-laws are trying to frame her. We are looking into the matter and appropriate action will be taken soon. The woman is being counselled," a senior police official said.
Personalise your news feed. Follow trending topics