Delhi-NCR street vendors get smarter with digital wallets
Hindustan Times |
, Noida/new Delhi/gurgaon
Simar Bhasin
Mar 27, 2016 08:29 AM IST
Digital wallet, a cashless mode of payment that eliminates loose change and the problem of extending credit has been a "life saver" for many.
Twenty two-year-old Pappu Shah's paan shop is a modest stall under a tree in Noida sector 8, right next to the printing press he quit to set up shop.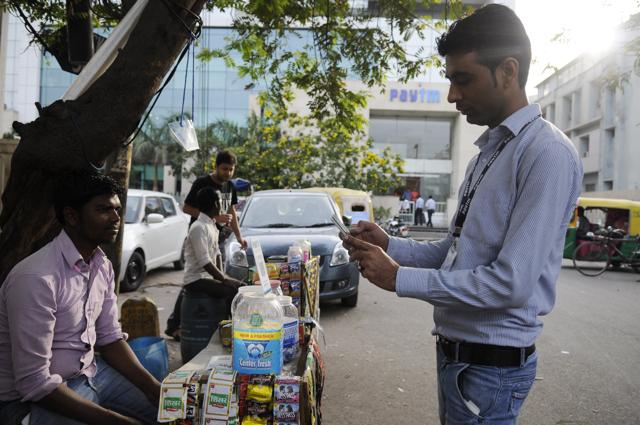 But for about nine months after he set up the shop, he struggled to break even and manage loose change. His regular customers paid him Rs 100 for single cigarette, or asked him to give credit.
It was a nightmare keeping tabs on who to collect dues from, and who to pay back, he says.
"It was very problematic. I wouldn't have enough money at the end of the day to send home to my family," he adds.
His life changed about four months ago, when a customer introduced him to a digital wallet, a cashless mode of payment that eliminates loose change and the perennial problem of extending credit.
These days, most of his customers pay him through a digital wallet. "It has been a life saver," he says.
Around 20km away in Munirka, Bunty Aggarwal (35), a tea and refreshments stall owner, started accepting digital payments four months ago.
His shop was set up by his father 30 years ago and caters mostly to students. "Whenever these young people ask for change, I just tell them to pay via the application. I get up to 20-25 customers daily, who pay digitally. This mode of payment is also easy for me as now I can pay my electricity bills via the app," Aggarwal says.
Shah and Aggarwal are among 10,000 small-scale vendors in the national capital region turning to smart technology for ease of business.
Once restricted to e-commerce and big retail firms, these digital wallets that allow customers to transfer money via an application and pre-load it with money are now the mainstay of many roadside stall owners, dhabas and auto drivers.
PayTM, one of the largest players in the digital wallet market, says the boom in small-scale consumers has redefined the company's approach.
"We are right now targeting merchants from anyone selling eggs on street to your local drycleaner. The market is very huge in India," says Kumar Aditya, vice-president, PayTM.
The cashless drive is part of a global trend that has seen cash payments slowly phased out in favour of the user-friendly, secure digital wallets and apps. Countries such as Sweden and South Korea already carry out a bulk of their transactions digitally and are set to go cashless by 2022.
The approach has also transformed local commuting in the Delhi NCR, especially in Gurgaon and Noida where unruly auto drivers are notorious for refusing to go by meter and charging exorbitant amounts for small distances.
Ride-hailing service Ola launched its auto service in Noida and Gurgaon this month and has registered roughly 20,000 autos in Delhi-NCR , offering customers the option of paying with its own digital wallet, Ola Money. PayTM has a registered base of 7,000 autos in Delhi-NCR.
In Gurgaon, many autos also offer PayTM wallet payment options.
"Autos in Gurgaon do not have meters. The on-demand services are convenient and I do not have to bother about carrying change, as some autos have Paytm wallets," said Shilpi Arora, an HR executive from Gurgaon.
For Satender Singh, using the smartphone application has solved his daily struggle of finding a 'savaari'.
"In cities where Ola Autos are operational, driver partners have reported as much as 40% increase in their earnings," says Nitesh Prakash, senior director operations at Ola. But in Gurgaon, not many are using the PayTM option, some auto drivers say.
Other apps are also capitalising on the trend. Auto-hailing app Jugnoo records 11,000 daily transactions in the national capital region, with most consumers paying digitally.
Auto drivers are now beginning to advertise the Jugnoo logo on the back of their vehicles along with side notes such as 'PayTM accepted here'.
"I get around 20-30 customers per day through Jugnoo who pay both by cash and via PayTM" auto driver Samsuddin Khan says.
"People are very much ready for this digital transformation," says Aditya.
(With inputs from HTC, Gurgaon)