Didn't force Tina to take science despite top grade: UPSC topper's mom
"Everyone wants their child to be an engineer or a doctor, but there is life beyond that, " says Hemali Dabi, mother of UPSC topper.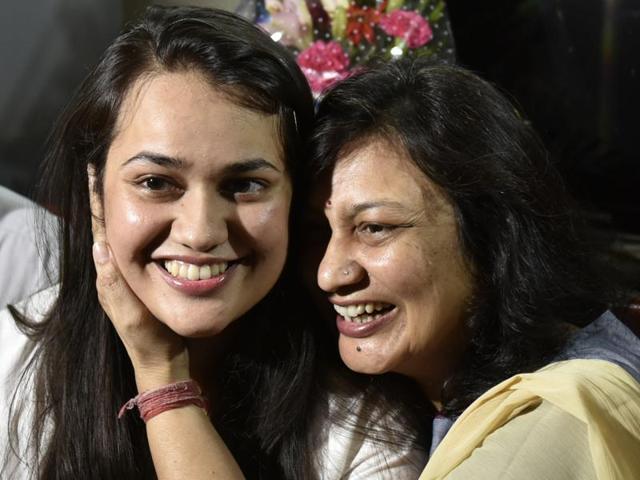 Updated on May 11, 2016 01:40 PM IST
Hindustan Times |
, New Delhi
Soumya Pillai and Shradha Chettri
Tina Dabi, who topped the UPSC exam 2015, comes from a family of engineers. It was her first attempt at cracking the civil services exam after graduating in political science from Lady Shri Ram College two years ago. Today her parents can't be more delighted that they did not force her to study science in senior school despite scoring a perfect grade in class X.
Tina's first words, as reporters gathered around her on Tuesday, asking for her success formula was, "the support of my parents played a major role in my success."
Also read: Civil services topper Tina wants to fight 'social problems' in Haryana
Hemali Dabi, Tina's mother, said, "The newspapers these days are full of stories of students committing suicides because of family pressure. Everyone wants their child to be an engineer or a doctor, but there is life beyond that. If you let your children decide what they want to pursue they will work hard and excel in the field."
"We are a family of engineers so after completing class 10, everyone thought Tina would take up science. But she was interested in humanities, and we let her do that. If she was forced to take up science that day, we would never see this day," said Jaswant Dabi, her father.
Also read: Meet J-K's Athar Aamir, second rank holder in IAS exams
However, students often complain about lack of such support from their parents, which has forced some of them, holed up in coaching centres and far-flung hostels, to take drastic steps in the past.
Recently, a 17-year-old girl, Kriti Tripathi, committed suicide after jumping from a five-storey building in Kota. She, alongwith her family, had moved there from Ghaziabad two years ago only to prepare herself for IIT. In a five-page letter, recovered after her death, she wished her mother had not "manipulated her as a kid to like science."
"I took science to make you happy," she wrote addressing her mother. "I had interest in astrophysics and quantum physics and would have done a BSc… I still love writing, english, history (sic)… and they are capable of exciting me in the darkest times…"
Also read: Delhi's Jasmeet Singh Sandhu bags 3rd spot in civil services examination
Experts say that unnecessary pressure to choose a certain subject over another increases stress among students which not only affects their performance but also their personalities.
"Thinking that the obsession with science is an urban phenomenon is wrong. I have got cases from outskirts of cities such as Bhopal where students have complained that they are unable to cope with the subject. We need to understand that success is a combination of aptitude and interest and even if one element is missing we will push our children into frustration," said Dr Samir Parikh, director (psychiatry) at Fortis Hospital, Shalimar Bagh.
He said that parents should allow children to explore their options and not shove their choice down their throat. Scientists and engineers are not the only successful people in the world.
"By giving them options you are allowing them to take charge of their own lives. At the same time you are standing with them as their support system," he said.
Parikh also heads a helpline for students and as results are now being announced for various entrance exams, the helpline number is getting as many as 60 calls every day.
Close Story