JNU teachers hold send lecture series at Freedom Square
Jawaharlal Nehru University teachers have started a five-day lecture series with over 14 professors and activists set to address students on 'Democracy and Social Justice- Access and Equality'. The first lecture of the series was addressed by Ramon Magsaysay awardee, Bezwada Wilson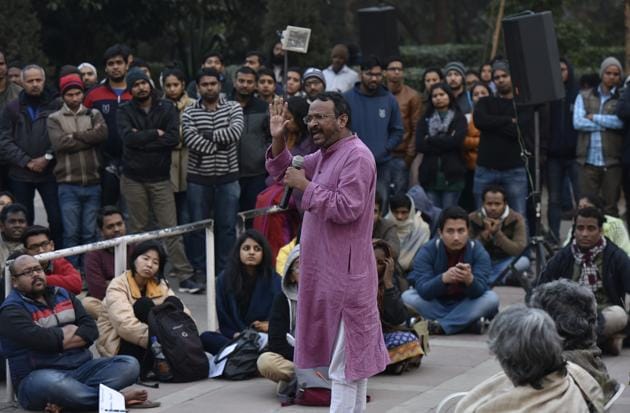 Updated on Jan 18, 2017 10:30 PM IST
The lawns of Jawaharlal Nehru University's (JNU) famed 'Freedom Square' may have been barred to stop protests, but the voices of dissent have not died.
JNU teachers on Wednesday started a five-day lecture series with over 14 professors and activists set to address students on 'Democracy and Social Justice- Access and Equality'.
The first lecture of the series was addressed by Ramon Magsaysay awardee, Bezwada Wilson, who has been working to eradicate the practice of manual scavenging, along with Ashwini Deshpande, visiting faculty at JNU's Centre for Political Studies and Archana Prasad, professor at JNU's Centre for Informal Sector and Labour Studies.
Wilson said the government's practice of branding anyone holding an opposing view as 'anti-national' is a dangerous trajectory.
"The government's concept of anti-nationalism is nothing but anti-democratic. If a citizen is not allowed to express his opinions and feelings, how can the government call this nation a democracy?" Wilson said.
Read: Dogs are a bone of contention at JNU campus
Talking about the recent video uploaded by a Border Security Force (BSF) jawan, Wilson said, "Till the time a soldier is dying at the border, he is a patriotic hero. The moment he complains about daal he is an anti-national and an alcoholic. The Prime Minister keeps telling us his 'mann ki baat', but he is not ready to know what the people of this country want to tell him."
Wilson also spoke about how the holiness and the purity of a cow has become a burning issue for India.
These lectures come after a spate of notices sent to teachers over their address to students at Freedom Square.
Recently, the JNU administration had put up a notice banning all protest within 20 metres of the administration building and asked students to hold 'democratic protests' beyond that area. The administration had also recently blocked parts of the "Freedom Square" with grilles to keep protesters at bay.
Close Story