Missing JNU student Najeeb Ahmad not linked to Islamic State, says Delhi Police
Delhi Police denied media reports that missing JNU student Najeeb Ahmad was browsing information about the Islamic State before his disappearance.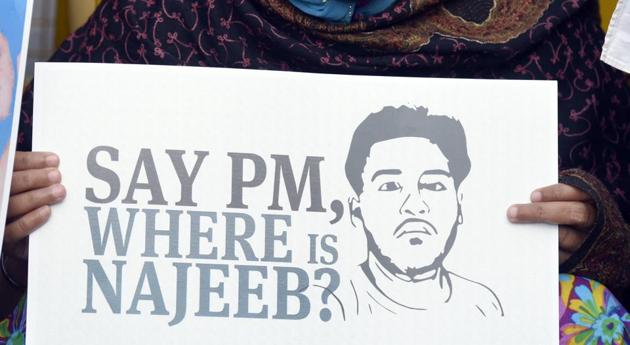 Updated on Mar 27, 2017 10:51 AM IST
Delhi Police on Tuesday rubbished reports which claimed that Najeeb Ahmad, a JNU student who went missing on October 15 from the campus, was browsing information about the Islamic State on his laptop prior to his alleged tiff with the members of the ABVP.
The police clarified that they have not found any such logs from his computer and no such information has been conveyed to them by Google and YouTube.
"We saw a report in the media claiming that Google and YouTube had indicated that Najeeb was listening to a speech by an IS member a day before he went missing and he may be associated with the organisation. The police has not received any such report. Any association with the ISIS has not come up in Delhi Police's investigation so far," special commissioner of police and Delhi police spokesperson Dependra Pathak said.
The media report had claimed that Najeeb was collecting information about the ideology, network and executions of the Islamic State from Google and YouTube before his disappearance. It also said that he had also searched for ways to join the IS.
Pathak clarified that no report mentioning the logs of Najeeb's laptop indicating that he was surfing such content on the Internet has been submitted to high court. "We have not submitted any such report or evidence to the high court. Our investigations have not yielded any such information," he said.
Pathak said that massive efforts are being made to trace Najeeb and a special team is on the job. "All angles are being looked at. We are hopeful that we will bring him safe and secure," he said.
Close Story