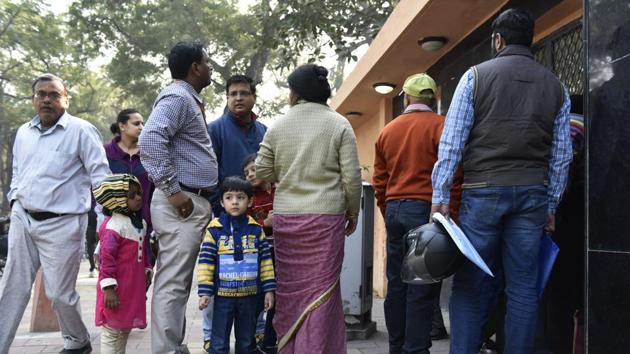 Nursery admissions: Shifting goalposts, litigation trouble for parents in Delhi
It's high time that the government should set this mess right. The Hindustan Times talked to educators, teachers, principals and activists to chart out a course correction.
UPDATED ON DEC 30, 2016 10:40 AM IST
There are more than 1700 unaided private recognized schools in Delhi that offer nursery classes. However, most parents compete for a seat in 15-20 of them each year. Some schools get about 8,000 applications for 50 seats while in many seats go vacant.
It says a lot about the way nursery admissions are conducted in Delhi. Each year, the city struggles to plug the gaps with a new set of rules, and harassed parents run from pillar to post, wait endlessly against hope, or in some cases approach courts, that only delays the process.
It's high time that the government should set this mess right. The Hindustan Times talked to educators, teachers, principals and activists to chart out a course correction.
Dependable government schools
The government must open more schools with pre-primary classes and introduce nursery classes in the existing schools. Currently, there are about 300 Delhi government-run schools which have nursery classes. However, only those who can't afford to send their ward to a private school, choose these schools. It is because of the poor standards of education that parents shun government schools, especially at the primary level. The same is true about the schools run by the municipal corporations.
Read | Nursery admissions: Parents in Delhi gear up for the great seat race
The standards of education can be gauged from the fact that in a survey the Delhi government found that 74% of Class 6 students could not read their Hindi textbook.
"We need to open more pre-primary classes and schools. We also need to improve quality of education in our schools," said Atishi Marlena, advisor to Delhi education minister Manish Sisodia.
Uniform admission guidelines
Continuous tug of war between the government and private schools and litigation has marred nursery admission process for over a decade. The government says the schools cannot be allowed to have their way policy is its prerogative, the schools cry infringement on their autonomy. Even the courts have failed to fix the mess.
"There should be a set of guidelines for all private schools so that when I apply, I am not confused about whether my child will fit the criteria or not," said Nivedita Verma, mother of a 3-year old.
Read | Delhi schools get 3 days to clear doubts in nursery admissions
This year around 1400 schools will follow the same guidelines as last year and the government will bring separate guidelines for 285 schools built on DDA land. In these schools, distance will be the only criterion for admission.
"All schools but those build on DDA land are free to have their own criteria. They will have to avoid 51 discriminatory criteria which we abolished last year. But schools on DDA land have to follow the neighborhood criterion as they were given on land criteria," said an official from Directorate of Education.
Transparency
One of the main grouse of parents with private schools is lack of transparency in the admission process. Complaints that only those with "connections and money" make it through the draw of lots in the best schools, is a common refrain. To address this issue, the government plans to bring the entire system on a common online platform from 2018. The applicants will have to fill up a common form, in which they will choose schools they want to apply for.
"The applicant will get selected in schools where she gets maximum points based on information filled in the form. In case of tie, a draw of lots will be conducted. There is no scope of corruption in this case as it will be online and monitored by government," said an official.
Currently, admission for students under the Economically Weaker Section (EWS) is conducted in the same way.
The official clarified the government will only provide an online platform and have no other role. "Schools will decide their own criteria," Marlena said.
Make schools accountable
Private schools, which received land on cheaper rates from government, must be made to give priority to neighborhood students, said Khagesh Jha, a lawyer-activist who has filed a PIL in high court on this issue.
Ameeta Mulla Wattal, principal Springdales School, Pusa Road, said parents should form pressure groups to ensure the quality of education and facilities given by school improves.
"There are over 1700 schools but the rush is for a select few because parents think education is good in these schools. But parents should form pressure group and ensure that quality of education is good wherever they send their child," she said.
Enforcement
Despite the government asking schools to upload their admission criteria on their website, not many follow it. Taking advantage of lack of transparency some schools last year had fixed points for random criteria like 'vegetarian' and 'non-smoking parents'.
Currently, there are punitive measures that the government can take against errant schools but officials said most parents do not register complaints as they don't want to confront schools where their child might get admission. "Unless rules are enforced, nobody is going to follow the rules," said a parent.
Close