People forced to wade through sewage, muck at NFC market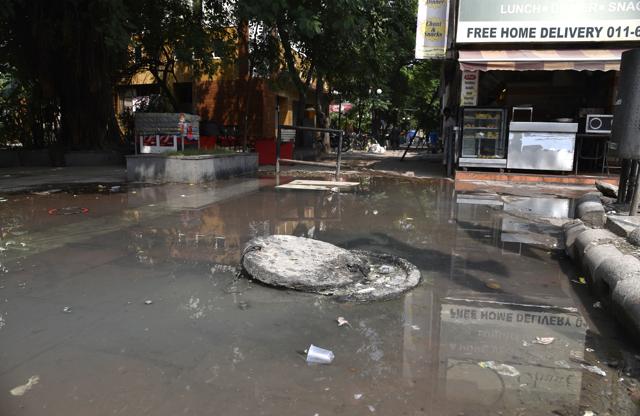 Updated on Aug 29, 2016 04:10 PM IST
The deteriorating sanitary condition at D block community centre, New Friends Colony (NFC) has left shopkeepers annoyed. During monsoon, the parking area gets flooded with sewer water making it difficult for people to park or walk.
One of the reasons for the mess is that there is no provision for separate sewer lines and stormwater drains are used for disposing sewage and rain water. The drainage system has no outfall and the main stormwater drain at Sujan Mohinder Hospital Road is damaged at various points. Hence, the water flows back to the parking area whenever the pressure increases. Consequently, dirty water collects in the complex.
"We are facing the problem this year too. The filthy water stagnates in parking lots which emits foul smell and facilitates breeding of mosquitoes," said a shopkeeper.
While the maintenance of the market is the responsibility of South Delhi Municipal Corporation (SDMC), the Public Works Department (PWD) is responsible for its drainage system. To ensure that these two agencies do their task properly, residents approached the officials of both the departments early this month. "Both the agencies assured that they would start cleaning work," said a resident.
"The PWD planned to connect the drain with the main drain at Mata Mandir Road to prevent overflowing. The SDMC has plans for the development of the market, but the project will take time to implement," said an SDMC official.
According to Shyam Gupta, a shopkeeper, opening of new restaurants has aggravated the problem. "Eateries dump their waste into stormwater drains. This results into blockage of the lines and overflowing of the drains. Unfortunately, the civic agency is not taking strict action against defaulters."
A parking lot near the NFC police station has overflowing manholes. "I had visited the place and was shocked to see the condition of parking area. It was swamped and I could not park my car there. The civic agency is not taking measures to declog these sewer lines. The place can be developed into high-end shopping complex, if the authorities maintain the area," said a resident. The situation is equally bad at the parking lot close to a fast food joint.
A senior PWD official said, "The tendering process for the project of constructing drain, footpath and road facing Sujan Mohinder Hospital has been completed. Work will soon start and we will ensure proper outfall for the drainage system."
Close Story