Rahul compares Saudi and India, pays for it on Twitter
Congress leader also claims seven out of ten youth in Punjab are 'into drugs'. His speech to university students in Chandigarh comes under attack from Twitter wits.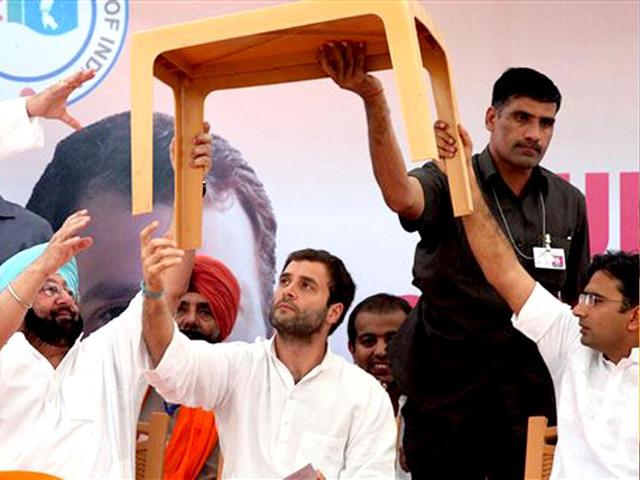 Updated on Oct 12, 2012 12:09 AM IST
The context could be justified but the comparison was jarring: Twitter started buzzing on Thursday after Congress leader Rahul Gandhi compared India to Saudi Arabia.

Gandhi made the comparison while speaking to students at the Panjab University in Chandigarh but there was a context to it. He said oil was important earlier but it's human resource which matters now. Saudi Arabia had prospered because of oil but India could use its human resource to become rich. "India is the Saudi Arabia of 21st century and youth is responsible for it," he said.
Twitter users reacted angrily to the comparison, rejecting the context of Gandhi's statement. Hastags #RahulGandhi and #yorahulsodumb soon started trending. This is just a sample what was being said:

The Congress general secretary blamed Punjab's Akali-BJP government for the state's drug problem and "misleading" farmers on the decision to foreign direct investment in retail. "Out of every ten youth in Punjab seven are into drugs", he said.
This statement too was attacked on Twitter.
The Congress leader used his interaction with students to support the UPA government's decision to allow FDI in retail.
"Famers are being misled by the opposition on FDI issue, and it's time that they get educated about their rights and things which will yield them benefit.
"Every time we (Congress) plan to work for the benefit of the nation--may that be land acquisition bill, FDI or anything else--the opposition without even realising or understanding the benefits oppose it. Politics should not be for one's own benefit--the interest of the nation should be kept in mind," he said.

"FDI is for the benefit of the farmers. The Congress wants FDI to happen so that a farmer gets full due for his crop. It is the youth which can assert and allow FDI in India".
Gandhi's speech was part of his two-day visit to Punjab during which he interacted with Congress party cadres.
Close Story
Personalise your news feed. Follow trending topics