The sale of Chinese products in Gaffar Market as steady as ever
The common public sentiment and a campaign aimed at boycotting Chinese products do not seem to have touched Gaffar Market, even though the sale of Chinese lights and crackers have dipped. Delhiites feel they should continue to buy cheap Chinese products when the government isn't banning the import of those products.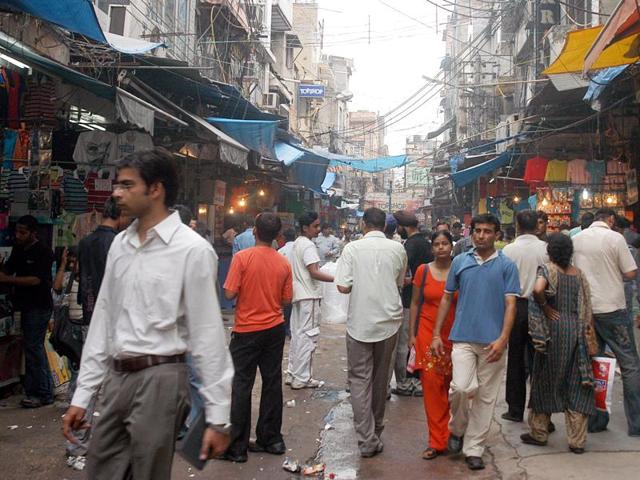 Updated on Oct 17, 2016 05:55 PM IST
While the common sentiment to boycott Chinese goods seems to have brought quite a dip in the sales of Chinese lights and crackers in the pre-Diwali season, in the Capital, Chinese electronic items do not seem to have been hit at all. And sellers in grey markets like Gaffar Market, where Chinese electronic items such as mobile phones are sold at a much cheaper price than their branded counterparts, are doing brisk business, as usual.
"Logon ko Chinese maal sasta paddta hai to kyu nahi khareedenge (Why won't customers buy Chinese products when they are pocket friendly?)," says Anwar, a mobile repair man who has set up his stall outside a mobile phone store in the market, adding, "Zyaada se zyaada customer middle class hote hain, who mehenge phones kaise khareedenge? Jab unko ek accha Chinese mobile Rs 1000 tak mein mil raha hai, toh woh mehenga branded phone kyu lenge? (Most customers are middle class, why will they buy an expensive branded phone when they're getting a Chinese one for Rs 1,000?)"
Among the list of Chinese products that are sold in the market, copies of branded bags, cosmetics, and home appliances are just a few. The shopkeepers say that the consumers often do not even ask if the products are Chinese, but sometimes they even specifically ask for Chinese goods.
"Ye Chinese products waala campaign yaha nahi aaya hai abhi. Market mein lights ka sale toh kam hua hai, par yaha toh original product dene pe bhi Chinese maal maangte hain humse, phir chaahe woh mobile parts ho ya normal chai kettle. (The campaign to ban Chinese products hasn't had any affect here. The market for lights has dipped, but In Gaffar Market, people only ask for Chinese products, even if we show them branded products .)" says Dinesh Yadav, shopkeeper at an electronics store in the market.
The reason for the sale of Chinese products, however, is not just the cheap prices. Some customers prefer them over branded items as there is hardly any quality difference, with Chinese products sometimes faring better than branded ones. Aayush Verma, who works in a call centre in Gurgaon, says, "I prefer buying Chinese phones as they offer better features at cheaper rates. My current phone is Chinese and its battery lasts so long, that it can put a Samsung or Apple phone to shame!"
Savi Aggarwal, a businesswoman who is a resident of Patel Nagar, is of the same opinion. "I don't see any harm in buying Chinese products from Gaffar Market. They're easy on the pocket for youngsters like me, and there's hardly any quality difference between them and branded products," she says, adding, "Also, why doesn't the government stop the import first? If we're all so moved by the campaign, shouldn't the government also do something?"
Close Story