Delhi cops who shot at burglar while trying to nab him donate blood to save him
Updated on Apr 27, 2017 01:13 AM IST
Delhi Police constable Ashok Kumar said he often gives blood to road accident victims but it was for the first time that he did so for a suspected criminal wounded by his own bullet.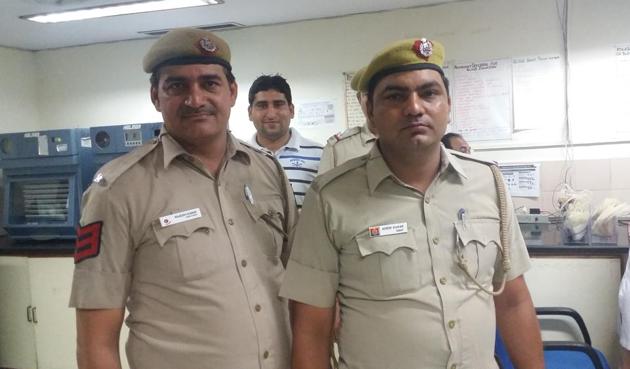 Hindustan Times |
, New Delhi
Shiv Sunny
A Delhi police team cut a suspected burglar down with five bullets in a shootout in Rohini on Wednesday, dashed the bleeding man to a hospital and donated blood to keep him alive after surgery.
Constable Ashok Kumar often donates blood to old people and road-accident victims, but never before to a suspect he had shot at.
"Shooting at the criminal was my duty. I am performing my humanitarian duty now," he said, with bloodshot eyes betraying a long night patrol as he signed on a form required for blood donation at Dr Babasaheb Ambedkar Hospital.
His kind-hearted gesture contrasts the bullets he and two colleagues dodged just before dawn.
Residents of Ahinsa Vihar Apartment in Rohini Sector 9 spotted two men carrying backpacks trying to scale a boundary wall of the housing block around 4am. They called police immediately and two policemen on bike patrol and another in a car reached the spot.
The cops tried to corner the two suspects — 24-year-old Nitin and associate Salman, who had their faces covered. But the alleged burglars climbed a wall and jumped on the road outside, only to come face to face with assistant sub-inspector Ramashray Singh, head constable Rajesh Kumar and constable Ashok.
The suspects, who were around 15 metres away, took out pistols and fired at the policemen.
"A bullet whizzed past my left ear and I pulled the trigger in self-defence. My colleague, ASI Ramashray, too began firing," constable Ashok said.
Ashok and Ramashray fired nine rounds with their service revolvers, and five of them hit Nitin — in one of his legs, both arms and lower back. The one that caught his back did the maximum damage, and he slumped to the ground.
His associate, Salman, managed to escape taking advantage of the darkness, said Rishi Pal, the Rohini deputy commissioner of police.
Nitin was dashed to Ambedkar hospital where the bullets were removed in a long surgery.
"Doctors said he would survive but require three or four units of blood," said SS Rathee, the station house officer of Prashant Vihar police station.
Rathee volunteered to donate blood — a unit measures approximately 450ml — and requested his colleagues to join him.
Head constable Rajesh agreed immediately, as did constable Ashok, who was itching to return to his barracks when the call for help came.
Ashok had stayed awake all night and thought of resting in the afternoon. But in no time he was in the hospital; lying back and clenching his fist as the machine slowly drew his blood into a sachet.
Duty done, Ashok and Rajesh now have time to think what a close shave they had. They don't know what to say to their families in Rajasthan and Haryana. Bullets from the two suspects could have caught them too.
Doctors said Nitin, a native of Kasganj district in Uttar Pradesh, is out of danger.
A similar humanitarian story played out in the Bastar region of Chhattisgarh on March 18 when a doctor-turned-IPS officer, Abhishek Pallav, shot at a Maoist in a seven-hour shootout and treated the wounded man. "He is an Indian citizen and deserved treatment," additional superintendent of police Pallav said.
Personalise your news feed. Follow trending topics