Free 'beer' from neem tree in North Campus keeping Delhi Univ's spirits high
Get a swig of "neem beer" in the shade of a therapeutic tree on Delhi University's North Campus, which is keeping poor tipplers high and hydrated for the past five months.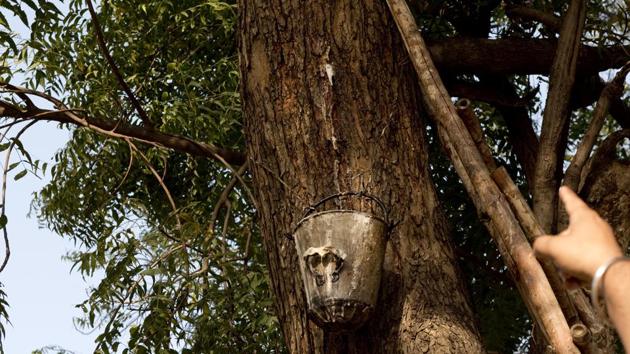 Updated on Mar 24, 2017 09:04 AM IST
There is an open bar in the Delhi University, and it's absolutely free!
Poor tipplers in North Campus have been using "neem beer" from a local tree for the past four months to stay high and hydrated. Several people, mostly labourers working in the university, queue up with containers near the freak neem tree for their daily fix. They like it better than off-the-shelf liquor; moreover, it comes free.
"A neem tree has been secreting a white liquid since November 2016. It smells of toddy (naturally alcoholic sap of palm) and tastes somewhat bitter. But people from the campus and outside collect it to drink. They say it is intoxicating," said Mahesh Prasad, the head gardener of North Campus.
There are around 15 neem trees near the rugby stadium towards the back end of the campus, most of which are more than 50 years old.
But only one tree is giving out the sap — at least 10 litres a day.
"This is unusual. It is for the first time that we have witnessed anything of this sort in Delhi," said CR Babu, professor emeritus at Centre for Environmental Management of Degraded Ecosystems (CEMDE) in Delhi University.
Like any watering hole, it's easy to locate the inebriating tree. The strong beer-like scent can be smelled at least 10 feet, or even more, from the tree. The charade of bottles, buckets and pitchers is also a good enough sign.
"I had two to three glasses of the toddy. It was quite intoxicating. I didn't fall ill after that. As it is a neem tree, I think, it also has some medicinal properties," said a labourer, in high spirits.
Someone has also placed a ladder and tied a bucket right at the source. Not a drop to be wasted.
"The liquid was coming out from near a joint of two branches. But then, it stopped and started to come out from a different place. The flow is gradually slowing down. The smell is also becoming weaker," said Vikrant Goswami, a scientific assistant at CEMDE.
Scientists from the university's department of environmental studies are testing — in the laboratory — samples of the liquid.
"We suspect it is not the kind of toddy which we usually get from palm trees. There is some kind of microbial activity going on inside the tree. The microbe is helping the tree sap to ferment," said Dr David Kothamasi, assistant professor at the department.
It would take at least a month for the test results to be available. In the lab, too, the bottle in which the toddy has been capped started to inflate when its cap was sealed. That's a signal that the fermentation process has not stopped.
Scientists said a similar incident was reported in Varanasi a few years ago. Tests revealed the presence of salicyclic acid, a key ingredient in aspirin.
The evergreen neem is the magic tree of Ayurvedic medicine, and is called sarva roga nivarini or the one that prevents and cures all diseases. The one at DU is keeping the spirits high.
Close Story
Personalise your news feed. Follow trending topics