Don't blame nature for the drought in Bundelkhand
States are quick to demand central funds to tackle drought, but show little drive to implement water conservation plans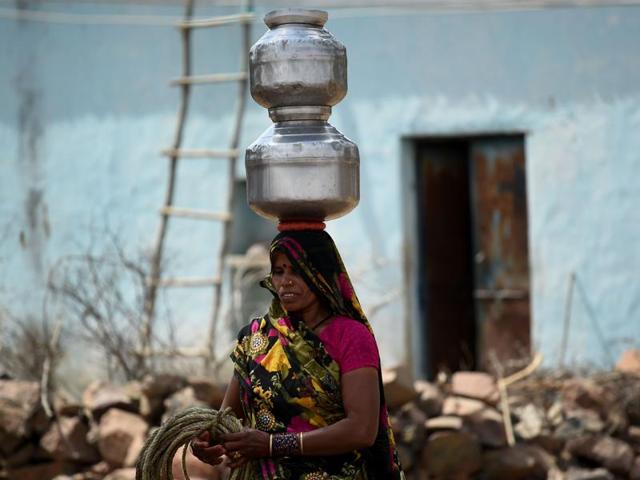 Updated on May 10, 2016 01:19 AM IST
States are quick to demand central funds to tackle drought, but show little drive to implement water conservation plans
"We are floating on water," Gulabi Bai said with a straight face. It wasn't a rhetorical statement; it was a rap on my wrist for enquiring about the severity of the water crisis in Jatara village in Madhya Pradesh's Tikamgarh district, one of the worst-affected districts in the drought-hit Bundelkhand region, which comprises seven districts of Uttar Pradesh and six of Madhya Pradesh. This drought is the 13th in 15 years.
As I travelled from Jhansi to other districts of Bundelkhand, the scene was frightening. The land is pre-dominantly brown with a few patches of greenery around fast-depleting waterholes, dry river beds, empty hand pumps and wells. In many wells, there was no water even at 80 feet. Everyone, especially women, seems to have only one primary job: Search for water. So intense is the scarcity that it is leading to social tension between the 'water haves and have-nots'. Many Scheduled Caste families complained about upper castes cornering water tankers; others talked about how panchayat heads of big villages are refusing to send tankers to smaller villages.
View | Photo Essay | Bundelkhand: Parched and desolate
As in Marathwada, the tanker mafia is making a killing here too: Providing less water than what the government is paying for and, in some cases, compromising on water quality. This lack of availability of water is bound to impact the Centre's grand Swachch Bharat plans and also impact the health of the people. Besides shortage of drinking water, drought also poses the threat of hunger and malnutrition. A report released by Swaraj Abhiyan on Monday said 40% villages in Bundelkhand region of MP are left with two or less functioning hand-pumps.
Read | The water mafia is sucking India dry
Women, children and the elderly are bearing the brunt of this endless drought. It's summer holidays now, but children recounted how teachers would send students back to their homes during classes to quench their thirst since the hand pumps in schools were dry. "How will they ever learn like this," asked an anxious mother.
Leave alone daily life, celebrations are also on hold: Marriages will be held only after the rains because, as one elderly man said: "How will we host guests in this situation?" The elderly are waiting for the rains for one more reason: They hope a good monsoon will bring back their family members who have migrated to cities for jobs. At Jhansi railway station, families with children, pots, pans and their meagre belongings can be seen leaving the region in droves. With the State almost abdicating its responsibilities, NGOs such as Parmarth Samaj Sevi Sansthan have opened community kitchens to feed the elderly and the disabled in some villages.
Read | Now, water wasted for UP CM's helipad in drought-hit Bundelkhand
This wasn't my first visit to rural India. But I can't remember seeing so many bovine creatures walking aimlessly along the highways. With no fodder and water for the cattle, farmers are forced to release them. For a farmer, the cattle are not only draught animals but also a sort of fixed deposit to tide over emergencies.
A report in Down To Earth says that the Centre has spent `15,000 crore in the past decade to create water-harvesting structures. That includes the `7,000 crore package for Bundelkhand announced by the UPA at the behest of Congress vice-president Rahul Gandhi. With this money, over 116,000 harvesting structures (700 check dams and 236 minor irrigation projects) were constructed in Bundelkhand between 2006 and 2015. But the impact of such structures in harvesting rainwater has been limited because of the bad construction quality and wrong location. In places, where quality check dams have been built, there is water — for example, in Chandrapur village, Lalitpur district, Uttar Pradesh. Thanks to the village's water-harvesting efforts, the groundwater level around the area has improved so much that villagers have left one pond exclusively for cattle.
Severe water crisis is not new to Bundelkhand but its rulers had found ways to tackle it. To drought-proof the area, the Chandelas and Bundelas, the Rajput clans who ruled these areas between the 10th and 16th centuries, built a network of tanks and ponds to harvest rainwater in good seasons. Many of them lasted centuries and some are still functional. But thanks to the State apathy in maintaining them and encroachment by the public, most have been destroyed.
Read | Bundelkhand's drought-ravaged land leading to farmer suicides
Check dams and water-harvesting structures, however, alone cannot minimise the impact of such back-to back drought on people. Preparing for drought requires action on several fronts: Setting up constitutional, legal and institutional frameworks for monitoring, early warning systems based on identified indicators, relief measures, financial and economic support and dedicated financing. In other words, several departments have to work seamlessly. But the State has failed in this too. Thanks to delayed payments and corruption in the MGNREGA, which could stop migration, people have lost interest in it. The agriculture department's extension services, which could have helped farmers to decide on crops that take less water, are almost non-existent.
Read | Shifting IPL matches or good rains won't end our water woes. Here's why
"While drought relief and management are important, a shift in public policy from drought management to drought mitigation is necessary," writes Indira Khurana, policy lead at IPE Global, an international development consulting company, in Reflections on Managing Water. Mitigation measures must include reducing soil erosion, augmenting soil moisture, slowing rainwater drainage and improving the efficiency of water use.
Kunal Shah, director, disaster management at World Vision India, said that drought or no drought, India is facing a grave water scarcity and only funds and schemes will not be enough to drought-proof the country. The State must involve communities in building and maintaining the water-harvesting structures. In fact, in many places I found people who are ready to walk long distances for water but wanted government to clean up/deepen wells.
There is tremendous anger among people but Bhopal, Lucknow and New Delhi don't seem anxious. On May 6, only 80 MPs were present during a debate on drought in the Lok Sabha when 10 states are drought-hit.
Read | 116 farmers committed suicide in 2016; 10 states reeling under drought
Late last week, the CMs of three drought-hit states met Prime Minister Narendra Modi. Uttar Pradesh chief minister Akhilesh Yadav demanded funds to buy 10,000 tankers and `11000-crore central assistance. The demands of the two other chief ministers — of Maharashtra and Karnataka — were on similar lines. It's a pity that states are quick to demand central funds to tackle drought. But they show little leadership when it comes to devising and implementing long-term community-based water and land management plans to drought-proof their states.
@kumkumdasgupta
Close Story