Bundelkhand's drought-ravaged land leading to farmer suicides
Updated on Jan 13, 2016 02:22 PM IST
When 39-year-old Ram Dwivedi shot himself with a rifle in Uttar Pradesh's water-starved Banda district a few months ago, it came as a shock even to local residents in the drought-ravaged Bundelkhand region.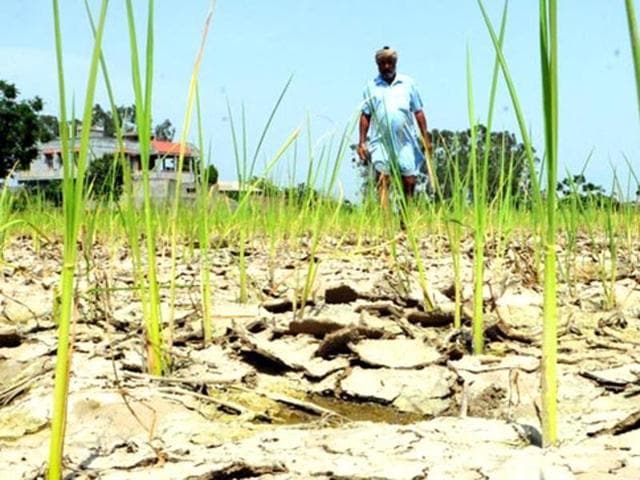 Hindustan Times |
, Bhopal/sagar
Ranjan and Anupam Pateriya
When 39-year-old Ram Dwivedi shot himself with a rifle in Uttar Pradesh's water-starved Banda district a few months ago, it came as a shock even to local residents in the drought-ravaged Bundelkhand region.
In the past few years, most people who committed suicide in the area were either tenants or small-time farmers. But despite having 20 acres of land, Dwivedi couldn't generate enough income to sustain his six-member family.
Hit by drought, unseasonal rainfall and hailstorm in a matter of a few months, the once well-to-do farmer invested heavily in his recent crop, hoping that the second yield would be good enough for him to even build a new house.
But successive farm distress events dashed those hopes.
Ram reportedly walked into his house after realising his investments were going down the drain, asked his daughter for a pouch of chewing tobacco, bid her goodbye and went to the farm to kill himself.
"He was depending heavily on the crop to repay his loan but was depressed at seeing the prospect of the second crop of the year failing," said his younger brother, Anil Dwivedi.
Ram is not alone. Such stories of rural distress are strewn across central India's Bundelkhand region, where farmers are fighting with their backs to the wall after a drought, hailstorm, and now an unusually warm winter played havoc with crop yields.
A farmer death is reported every third day from the 13 districts that comprise the region. Government agencies report around 40-60 people have killed themselves in the past year but local estimates say the number is at least 10 times higher.
A R7,266 crore package in 2009 promised by Congress vice-president Rahul Gandhi has achieved little on the ground, nixed by burgeoning loan burdens, rampant corruption and poor project implementation.
Little Compensation
The promised compensation hasn't even trickled down to those who need them the most.
Last week, 50-year-old Hira Singh committed suicide in Madhya Pradesh' Panna district after he allegedly failed to get compensation for loss of paddy during the drought.
Around 100 kilometres east in Sagar district, 75-year-old Mula Vishwakarma died after sleeping in the open at night outside the district administration office, waiting for his meagre R2,000 compensation.
"18 out of the last 30 years of recurring and long droughts, attributed by meteorologists to climate change, are playing havoc with the lives of 21 million poor and marginalised people of Bundelkhand," said a 2014 study by the National Institute of Disaster Management.
"Most households have sold assets... hundreds of farmers' suicide due to starvation and debts abound."
Poor Implementation
Poor implementation of various projects planned under the Bundelkhand package, in addition to rampant red-tape and corruption, has added to the farmers' misery.
"The Bundelkhand package is a gift for contractors and government officers," said 73-year-old Bhartendu Prakash, who runs the Bundelkhand Resources Study Centre at Chhatarpur.
"It is not a natural drought. It's man-made. The impunity with which the region's resources like forests and hills are being depleted, Bundelkhand will soon turn into a big desert," warns Prakash, who quit his job as an IIT professor to work for farmers.
Many farmers have similar horror stories. Anil Dwivedi said his brother was pushed to the brink by loan sharks and agents.
"The bank was threatening to auction the land if he failed to repay the loan," he said.
It is not uncommon for agents in the region to seek a commission of 5-10%, for first arranging a loan and then for recovering the money.
"The farm distress has created this alternate business in Bundelkhand," said a senior functioning of National Institution for Transforming India (NITI) Aayog.
Sample this. Narendra Lodhi's suicide earlier this year in Sagar district came after the electricity department allegedly cut power supply to the entire village – leading to his crops withering. The 20-year-old, who had a big loan to repay, couldn't take his third crop failure in as many years.
Booming Migration
The 2014 National Institute of Disaster Management study said the back-to-back farm distress events have also pushed up migration with an average of 6,000 people moving to other regions daily.
"I can't recall such a phenomenon in the past decade or so. In such a situation NREGS could have helped but officials are not pushing the rural job guarantee scheme…Given the loan burdens, I fear the number of suicides will only rise in the coming months," says Sanjay Singh, secretary of the Gandhi Ashram in Chhatarpur.
Festering corruption
Corruption has been the final nail in the farmers' coffin, with several dams built with poor-quality materials, a Congress leader in the MP assembly reporting that bikes, scooties were used for transportation of sand stone and soil and rampant irregularities in bills and documents.
For example, the Bhitri Mutmuru dam in Panna was built with around R85 crore on the river Galko but developed a breach and one of its walls was swept away in June 2013. An inquiry found the incident took place due to sub standard quality.
Two other dams --- Gugarwara and Sakaria --- built at a cost of Rs 37 crore also developed cracks.
The widespread distress has left even even activists and NGOs with little hope.
"I have stopped working like I used to earlier. There is no result on the ground. Irrigation dams and employment schemes seem to be only on paper," says Aijaz Khan of the Bundelkhand Mitra Parishad.
Analysts say many farmers have abandoned farming and rented out their land to share-croppers, and the rest are opting for less water-intensive crops to get something out of the land.
Even the government admitted the situation in Bundelkhand was grave with Madhya Pradesh minister for forests Gaurishankar Shejwar saying the administration's priority was to provide drinking water to people and then to create employment.
"We are trying to effectively implement schemes to provide necessary succour to people. Drought is a recurring problem and should not be linked with the Bundelkhand package."
Personalise your news feed. Follow trending topics