We have to save India's natural commons
Nov 22, 2018 11:45 AM IST
While we must celebrate the Indian government's decision to save the 20 wetlands, it is important to remember that while earmarking and protecting particular ecologically-sensitive areas is critical and vital, it's not enough
At a time when the battle between development and environment is being fought every day across India, the Union environment ministry has given us something to cheer about. It has identified 20 wetlands and nine wetland clusters for conservation as they are congregation sites for migratory water bird species. These wetlands, which will be protected as part of the Centre's Central Asian Flyway Action Plan launched on Monday, include Keoladeo in Rajasthan, Coringa in Andhra Pradesh, Bhitarkanika in Odisha, Point Calimere in Tamil Nadu, Sunderbans in West Bengal, Harike in Punjab, Gulf of Mannar, and Nal Soravar in Gujarat. This is a crucial development since wetlands — mangroves, marshes, paddy fields, swamps etc — are important stopovers for birds, and also work as a giant sponge that soaks up and stores extra rainfall and water from storm surges.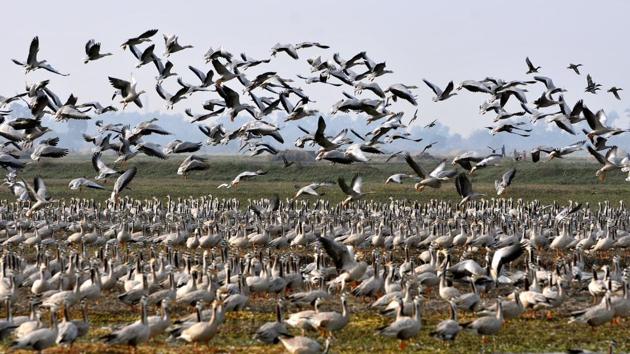 Like in other parts of the world, in India, too, wetlands are under threat, thanks to expanding agriculture, deforestation, climate change, land encroachment and urban development. A recent study by the Global Wetland Convention found that nearly 35% of the world's wetlands were lost between 1970 and 2015.
While we must celebrate the Indian government's decision to save the 20 wetlands, it is important to remember that while earmarking and protecting particular ecologically-sensitive areas is critical, it is not enough. There are thousands of unprotected wetlands, forests, sacred groves, grasslands, community forests, urban forests etc — our natural commons — in this country which are vulnerable to land use change, and every time we lose a bit of them, we lose a substantial amount of ecological heritage.
Take, for example, tiger and elephant reserves. We have several national parks where both are (hopefully) safe, but then they often get killed once they step out, either by humans, or by speeding trains and exposed electric lines. This happens because animals don't care for man-made boundaries; they need secure corridors to move around, and, therefore, it is critical to save not just a portion of land/water for them but also what lies beyond them: the natural commons.
Topics