15,626 kids admitted under RTE in 49 UP districts in 2016
More than 15,000 students have enrolled in schools across 49 of 75 districts in Uttar Pradesh this year under the right to education act.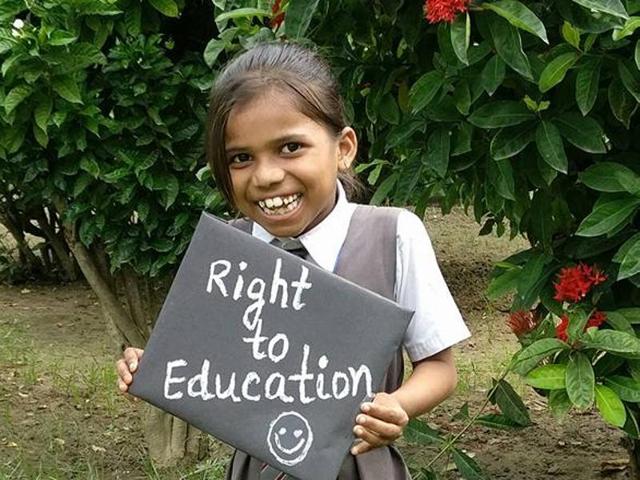 Updated on Sep 16, 2016 07:04 PM IST
More than 15,000 students have enrolled in schools across 49 of 75 districts in Uttar Pradesh this year under the right to education act that mandates 25% reservation for children from economically and socially disadvantaged sections in private unaided institutes.
Against 21,789 applications, 15,626 students were given admission under the act by privates schools. This number is more than 3 times compared to last year when 4,400 poor children got admission in over 500 private schools in only 26 districts. The total number of children admitted in 2012, 2013 and 2014 was only 108 in the state.
India enacted the landmark Right to Education Act in 2009, giving children from poor and other disadvantaged backgrounds the right to free and compulsory education to the age of 14. But UP formed the RTE rules in 2011 but they were implemented only in December 2012.
The maximum number of students to get admission under the act were in Varanasi, Prime Minister Narendra Modi's constituency, where 3,318 poor children are now going to school.
Read more: RTE admissions: 1,618 seats find 200 takers in Round 2
Agra came second where 3,000 students got enrolled in private schools and Lucknow finished third with 2,920 students being admitted under RTE. In Kanpur, 1,018 students got admission.
"The four districts where poor students got admission under RTE was primarily due to the hard work of Basic Shiksha Adhikari (BSA) and of course increased awareness level of the parents whose perseverance to send their children to send school paved away for large number of admissions under RTE," Samina Bano, RTE crusader and founder-chairperson of Bharat Abhyudaya Foundation, said.
When asked about the lack of RTE implementation in the remaining 26 districts Bano said, "There can be multiple reasons. Either the Basic Shiksha Adhikaris in these districts did not work hard to get poor students enrolled or awareness level among parents was not high."
Bano, whose organisation ensures RTE compliance in private schools, said the act has opened a window of hope for many families, whose first generation of learners are now going to school.
Read more: Record number of applications received under RTE in MP
Six-year-old Vandana, the daughter of a poor farmer, is one such child. Vandana was adopted by her uncle and aunt after her mother died but they too could not afford to send her to school. Through RTE, the girl now has an opportunity to study in a school.
For Srishti Kumari's father, who could barely make ends meet as a class IV employee in a private organisation and for whom paying a hefty school fee was out of the question, RTE came to the rescue. And after a long-drawn legal battle, Srishti got enrolled in Lucknow's Indira Nagar branch of City Montessori School last year.
Srishti and 45 other children, who got admission under RTE, were recently felicitated by member of Parliament Dimple Yadav at an event held at chief minister Akhilesh Yadav's residence on the occasion of Malala Day.
The BAF that helps poor students with admissions said that many private schools are unwilling to give admission to poor children. It said that UP has the potential to help 50 lakh children in the next eight years.
"Even if this year's figure is not too high as compared to the potential, it is still a significant improvement. What is more encouraging is the fact that the government's machinery has been set in motion and an RTE implementation system has been set up after rigorous capacity-building exercises with the government bodies," Bano said.
Close Story
Personalise your news feed. Follow trending topics