A PM and a star come calling
Equality, creativity, future plans… Janki Devi Memorial College students have their questions ready as David Cameron and Aamir Khan visit.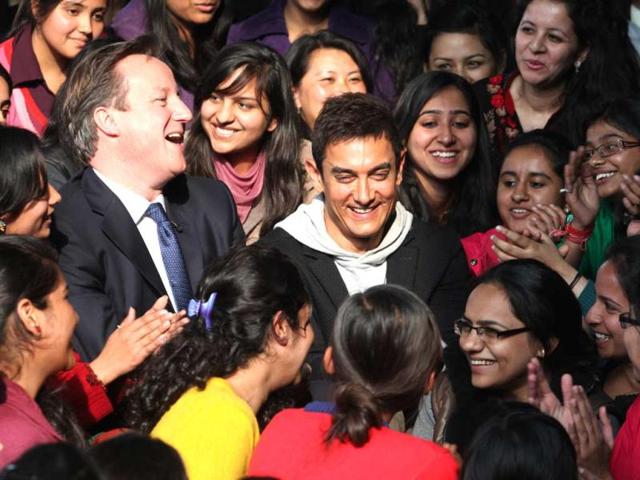 Updated on Feb 26, 2013 01:04 PM IST
Hindustan Times | By HT Education Correspondent
, New Delhi
So what happens when a prime minister comes calling? Students of Janki Devi Memorial College were made to feel like VVIPs when the British prime minister dropped in for a visit, bringing along star celebrity Aamir Khan along with him

Despite the faculty warning the excited youngsters to maintain "your decorum", excited chatter gave way to a happy roar as the name of the celebrity accompanying Cameron was revealed. "Aamir Khan will be coming in, but do not move from your position, do not shout, do not try to touch him, do not go wild," the teachers warned repeatedly. "He is coming in as an ambassador for malnutrition (the film star is the UNICEF brand ambassador for malnutrition) and not as a film star, remember that. He will not be talking about his movies," the teachers said.
They need not have worried. The young ladies were excited, but perfectly well-behaved and full of questions when Cameron and Khan came in. Sadly, the media could not catch a word of what was said because, as we heard, tight security meant no mikes were to be used as the two VIPs went from group to group and chatted with them.
What was the prime minister quizzed on? Talking to the media later, Khan said most of the queries were related to women's issues. The young students were concerned about inequality in society, they were worried about their careers, about studying abroad and needed to know what kind of future existed for them in this country or in an alien land. "Inequality was a big issue, and the research we did for our serial Satyamev Jayate (a television talk show Khan anchored) revealed that somewhere the root cause is our patriarchal way of thinking… that men are stronger, better, superior with special privileges," Khan said. "We as a society need to stop killing the girl child, stop treating her differently, feed her, educate her and provide her better health care like we do our sons. We should, mentally, emotionally, physically, treat them at par with the boys. It's only by empowering the women will we strengthen the nation," he added.
On other issues, creativity was big on the agenda for Nim Tshering, a BA English honours student. "I asked Mr Cameron about how seriously the creative field was taken in the UK. In India it is not taken as seriously as academics." The premier assured her of there being a host of exciting creative opportunities in his country.
Pratibha, a BCom honours student told Cameron she came from a middle-class family. "I asked him about study opportunities in the UK and the prime minister told me about the various scholarship offers," she said. "I told him about inequality over here — in jobs, in the way women are treated," she added. Asha, an English honours student and a member of the Shakespearean Soceity, wanted to know about co-curricular activities in UK universities.
Close Story