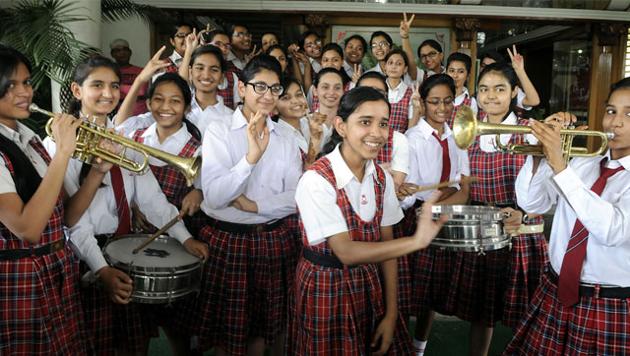 CBSE 10th result 2019: Many students from Mumbai schools score 95% and above, know state toppers, unique achievers
Schools in Mumbai reported a large number of students scoring 95% and above in the CBSE Class 10 exams. Three students from Mumbai topped the state and featured in the national list of toppers.
Hindustan Times, Mumbai | By Ankita Bhatkhande
UPDATED ON MAY 06, 2019 09:22 PM IST
Schools in Mumbai reported a large number of students scoring 95% and above in the CBSE Class 10 exams. Three students from Mumbai topped the state and featured in the national list of toppers.
Deepsna Panda from Apeejay School Nerul, Navi Mumbai, Dhatri Mehta from Reliance Foundation School in Koparkhairane, Navi Mumbai, and Adree Das from New Horizon's Scholars School, Thane, shared the first position in the state with a score of 99.4%. While these shared the third rank with students from other regions, the board released a list of 20 toppers from the state all of whom scored 99% and above. Of these, 9 students are from Mumbai.
Chennai region, which Mumbai is a part of, ranked second amongst all regions with a pass percentage of 99%. Most schools in the Mumbai, Thane and Navi Mumbai recorded a 100 percent result. Principals said that the number of students who have scored 95% and above has seen a significant jump as compared to the last few years. Of the 2,18,739 students who appeared for the exam from the Chennai region, 2,16,546 cleared, giving a passing percentage of 99.
Seema Maindiratta, principal, DAV Kharghar, Navi Mumbai, said, "From the 150 students who had appeared for the exams from the school this year, 41 have scored 95% and above while 51 have scored 90% and above. This is a big number and we are seeing an overall increase in the marks that students have got."
At New Horizon School in Airoli, Navi Mumbai, 68 students have scored above 95% with Vanshika Lohana from the school scoring 99.2% ranking second in the national list. The school also recorded a 100% result.
Ganesh Parmeswaran, principal, Balbharti Public School, Navi Mumbai said that the spike in scores possibly indicates lenient moderation. "While it is nice to see students scoring so well, scores seem to have significantly gone up this year which might be because of some leniency in the moderation policy of the board," he added. Of the 186 students that appeared for the exams from the school, 101 students scored 90% and above. The school recorded a 100% result.
Know the Toppers
Deepsna Panda, 99.4%, Apeejay School, Nerul
A trained classical dancer, Deepsna said that the she expected a very good score from the beginning. "I always knew that I would score above 98% but this seems to be even better. I want to study science and take up medicine. I am not very sure about the specialisation that I want to take up but I would like to become a cardiologist," said the student.
Dhatri Mehta, 99.4%, Reliance Foundation School, Koparkhairane
Dhatri has scored a perfect 100 in Mathematics, Science, Social Studies and Sanskrit. "I always expected this score as I had worked very hard for my exams. Both my parents are gold medalists and I think that is what has helped me score so well. I want to pursue engineering and will take up science after this," she said. Dhatri is trained in Kung fu and said that she likes to play and be out a lot.
Adree Das, 99.4%, New Horizon Scholars School Thane
Adree scored 100 marks in all subjects except Hindi where he scored 97. He aspires to take up Science, hopes to get through IIT - Bombay. This resident of Kavesar has always been a bright student. "I had prepared a time table for every day, would take a break after every three to four hours. I opted for swimming and painting during study breaks. I didn't prefer going to any classes and learnt on my own. I prepared a subject wise timetable," said Adree Das, student.
Vanshika Lohana, 99.2%, New Horizon School, Airoli
Vanshika said that while most people who knew her had expected her to top the exams, she did not. "There is so much competition out there that I was not sure about getting a rank. But I always studied with great sincerity and was confident about getting a good score," said the student. She said that she wants to take up Commerce after this.
Special Cases
Child with cerebral palsy scores 90.4%
Amidst all the top scorers at Rajhans Vidyalaya in Andheri (W), the one that everyone is most proud of is 16-year-old Mamta Nayak. Born with cerebral palsy, nothing deterred her from doing well in life, even if it meant to work twice as hard as other children her age.
"She attends school regularly and once home, I taught her everyday. She takes more time than the rest to understand concepts but never gives up," said Rupali Nayak, Mamta's mother. She added that other than school and studies at home, Mamta needed no coaching from any other source and managed to score 90.4% in her class 10 exam.
"Despite being regular at studying, we had to work extra hard the last couple of months before the exam and Mamta was always ready to put in the extra effort," said Rupali and added that Mamta now plans to continue her high secondary education in the same school in the Humanities stream.
Twins score almost identical scores
Mumbai: As CBSE Class 10 students were celebrating their scores on Monday, the Saji household in Panvel celebrated a double success as 16-year-old twins Alma and Alan Saji managed to score well, almost identical marks.
While Alma has scored 96.2%, her twin brother Alan has secured 97.2%. "We have always studied together. Alan is very good with Maths so he helped me with the subject while I helped him with languages including English," said Alma.
Students of St Joseph's High School in New Panvel, the brother-sister duo have different plans for the future. While Alma wants to pursue her education in Commerce and aims to become a Chartered Accountant, Alan will start preparation for engineering. "We both have different interests but we will still end up studying together," said Alma.
TV actress balances work and studies, aces board exams
Ashnoor Kaur, the well-known TV and film artiste and a student of Ryan International School Kandivali scored 92.6%," I am very happy and delighted as I always wanted to score above 90% and today my dream is fulfilled. It is due to my hard and constant support from my school that I am at this position today. My school has always given my continuous support to continue with my career as a child artist. Whenever I required any help my teachers were there to help me solve my doubts.
Close