CBSE says Class 12 accountancy paper not leaked
CBSE Class 12 Paper 'Leak' report: CBSE clarifies that miscreants at local levels tried to play mischief by circulating messages through WhatsApp and other social media to disturb the sanctity of the examination.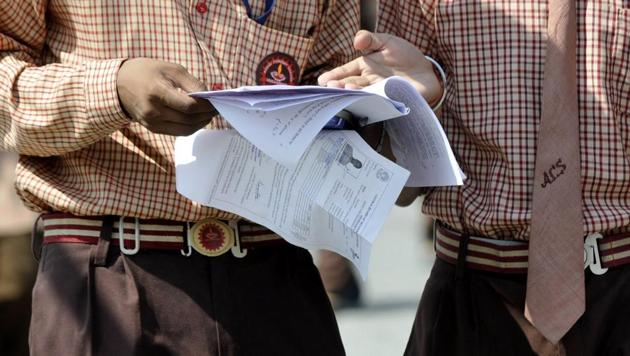 Updated on Mar 16, 2018 04:11 PM IST
New Delhi, Hindustan Times |
HT Correspondents
The Central Board of Secondary Education (CBSE) said on Thursday that the Class 12 accountancy question paper hadn't been leaked, after purported copies of the question paper emerged on WhatsApp during the exam, causing confusion across schools.
The board ruled out any repeat of the examination as it had no evidence of any question paper being removed from sealed packets before reaching about 4,000 examination centres in different states.
The CBSE blamed "mischief makers" for sharing copies of a paper on social media only to disturb the conduct of the exam taken by students of commerce on Thursday.
The board now plans to register a police complaint though it could not explain how the questions in 10 pages circulated on WhatsApp matched those in the question paper of Set 2 handed to students by invigilators in the Delhi region.
The three-hour-long exam started at 10.30 am.
Delhi education minister Manish Sisodia tweeted at 11.55 am that there were complaints of a paper leak and that he had directed his officials to investigate it, citing alleged negligence by the CBSE.
"Received complaints about the Class 12 CBSE Accountancy paper being leaked. Have asked officers of Directorate of Education to investigate and lodge a complaint with CBSE. Swift action must be taken, so that hard-working students don't suffer due to negligence of CBSE," he wrote. It had been retweeted 552 times by 8.30 pm.
Less than two hours later after the tweet, CBSE issued a statement denying any leak. "There has been no leak of the question paper. All the seals have been found intact at the exam centres. During the process of examination, however, at a local level, some miscreants have tried to play mischief by circulating messages through WhatsApp and other social media to disturb the sanctity of the examination," CBSE spokesperson Rama Sharma said.
Later in the day ,at a high-level meeting at the CBSE headquarters in east Delhi's Preet Vihar, officials discussed that it was not possible to verify if the message on WhatsApp originated before or after the exam started as the time stamp on a mobile phone could be changed by anyone.
"The paper seal was found intact which means it didn't get leaked till it reached the examination centres. So the sanctity of the entire exam process has been maintained. However, as there are some similarities in the allegedly leaked paper and the original one, we are verifying if at all someone sent it from a centre. Though it seems unlikely," an official familiar with the developments said on condition of anonymity .
There were unconfirmed reports that a paper might have leaked from a centre in north Delhi's Rohini. Rajneesh Gupta, deputy commissioner of police (Rohini), confirmed having received a call from a student informing the police of an offer to buy the accountancy question paper for~4,000. "The caller could not be traced by the police and the address on which the phone number was registered was found to be incomplete and hence unhelpful. We were unable to pursue the case any further because of the hindrance," Gupta said.
Officials at CBSE also said that some images being circulated on WhatsApp were of last year's accountancy paper. "We are going to come out with an action plan to ensure such incidents don't take place," said a CBSE official on the condition of anonymity.
An official from Delhi's Directorate of Education said on condition of anonymity that they had been asked to check if the images sent via WhatsApp matched the question papers given to students. "Students had already started the exam by then. It was seen that it was a direct match with Set 2. But the Directorate of Education can't do much here as the CBSE directly conducts these exams," said the official, who added that they had not received any complaint other than the images shared by a reporter.
Sisodia also denied having received any complaints. "No," Sisodia replied on WhatsApp, when asked if he had received any complaints. Although students discovered only after the end of the exam at 1.30 pm that the paper had run into a controversy, their parents had been in panic for several hours. "If the government is saying one thing and the CBSE another, it is not a healthy sign. Before making things public, they should at least talk to each other. The entire nation got panicked with the minister's confirmation," said Akshat Kumar, father of a class 12 student.
"I got to know about the paper leak after the exam. My friends were discussing it on WhatsApp. The paper was easy but a little lengthy," said Shayantani Sarkar of DAV Hehal, Ranchi.
Close Story