Class in container: Mobile schools bridge skills gap in graduates
Updated on Jul 19, 2015 03:41 PM IST
Mobile schools, classrooms held in a container, are teaching graduates to bridge their skills gap in rural and impoverished areas. The advantage is that container schools are easy to set up as they don't involve the clearance and construction tangles of actual real-estate, and can be picked up and shifted as needed.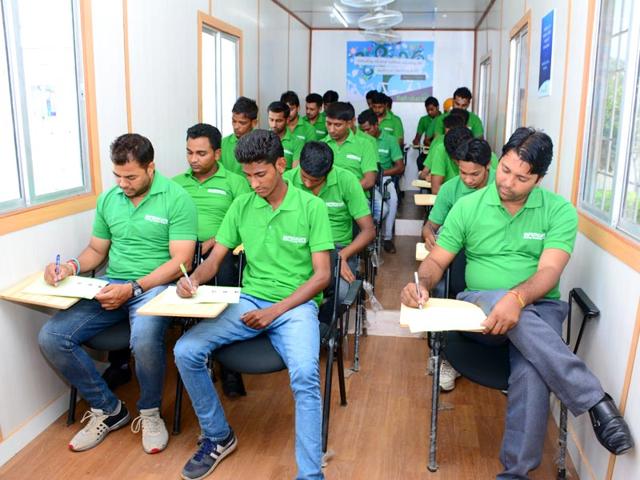 Hindustan Times |
Pankti Mehta Kadakia
Hoshiyar Singh, 22, is in a class of 14 students being trained in logistics management.
Rather ironically, his classroom is a container of the kind usually used to transport goods on large trucks. It arrived in Haryana's Ambala district just three weeks ago. "When you enter the classroom, you forget that it used to be a container. It's luxurious," he says. "We're proud to be among the first students to study in such a school."
To address a growing skills gap among graduates, educational foundations are experimenting with mobile classrooms fashioned out of containers made of iron and steel. These are being installed in rural areas and in impoverished areas within cities to impart mainly vocational training through short-term, government-approved certificate programmes.
The Ambala centre has been set up by Safeducate, the logistics and supply chain management training arm of logistics firm Safexpress, which plans to set up 20 similar 'schools' across Haryana, Chhatisgarh and Uttarakhand over the next six months. The initiative is in association with the National Skills Development Corporation, which will subsidise the cost of training.
The NASSCOM Foundation and HP are working on a similar model, using shipping containers to spread digital literacy in slums and impoverished urban areas in Mumbai, Pune, Chennai, Bengaluru and parts of Rajasthan. "We thought of using containers because it's a resource that's easily available to us, and a scalable, quick solution to a deep-rooted problem. And it works. The containers work like Lego blocks," says Divya Jain, CEO of Safeducate. "You can stack them together as you like and use just as much space as you need. Each container is 40 ft x 9 ft, so it can even be divided into 'classrooms'."
The biggest advantage is that container schools are easy to set up because they don't involve the clearance and construction tangles of actual real-estate, and can be picked up and shifted as needed.
Since a container costs much less than building multiple structures of the same size - a refurbished container costs `8 lakh to `10 lakh and can be reused multiple times - there is more of a budget left for infrastructure too.
The four-container outfit in Ambala, for instance, is web-enabled, air-conditioned, and kitted out with projector screens, a computer laboratory, a small library and even a toilet. A total of 189 young men from nearby villages are currently being trained in logistics management here, in shifts. Each class has 14 to 32 students.
The container campus is located on Safexpress-owned land, close to one of the company's logistics centres, and students are taken to warehouses for practical training.
Singh, a commerce graduate, says he picked this option because logistics is a growth industry and Safexpress plans to absorb some of the students and help the others find work.
The digital literacy initiative, meanwhile, will open next month and park its container units near municipal schools that can offer toilet facilities. "Anyone over 14 will be welcome to sign up," says Shrikant Sinha, CEO of NASSCOM Foundation. "We specifically hope to train homemakers, because if you train a mother, you train a generation."
Some educationists cite concerns of safety and hygiene.
"The concept is interesting, but previous experiments have seen mobile classrooms fall into disrepair, becoming unhygienic and even unsafe for women," says S Parasuraman, director of the Tata Institute of Social Sciences. "The containers will need to be sanitised, cleansed of any chemicals that may be around from its previous avatar, and properly ventilated. They should have CCTV cameras for safety. As long as all these boxes are checked, this could be a great idea."
Safety is a prime concern, adds economist Ajit Ranade. "After the Bhuj earthquake, such containers were used as makeshift homes and schools - quickly deployable and modular. As long as they are weather-proofed and safe, they are a great innovation," he adds.
Close Story
Personalise your news feed. Follow trending topics