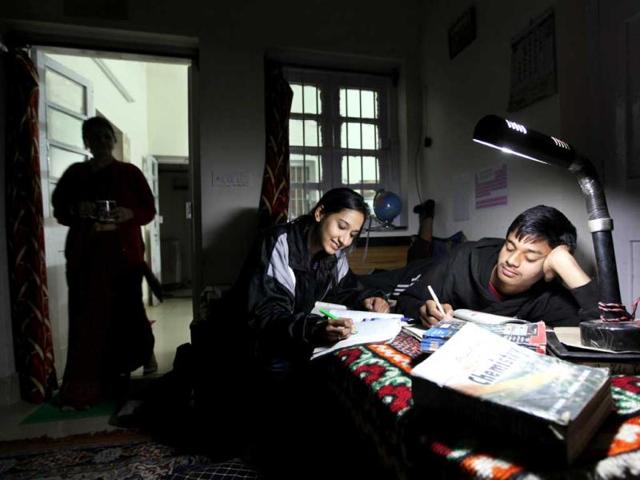 Establish a sleep rhythm
Expert advice: Sleeping during the day, excessive intake of caffeine can lead to decrease in sleep and concentration.
UPDATED ON FEB 08, 2012 01:56 AM IST
I'm so tense about the Boards that I can't sleep or eat. Can watching television or music really help me relax? My parents don't think so. - Sameer Bagai
A chronic sleep-restricted state can lead to fatigue, daytime sleepiness, weight gain and decreased and faulty physical and mental performance. Similarly, not taking a balanced diet can make your metabolism ill-balanced. This will decrease your concentration and retention of facts — both important for exams. There are a number of factors which lead to a decrease in sleep and concentration:
Mental strain
Absence of physical activity
Excessive intake of tea/coffee/caffeine containing colas/ energy drinks
Pain, fever, or similar health problems
Excessive noise
The following could be done:
Reduce your caffeine intake (tea/ coffee/ energy drinks, etc), especially late in the day.
Don't have heavy or rich meals, especially some hours before you go to bed. Salt and sugar in meals should not be extreme.
Do regular exercise (this can be simple stretching exercises done after every 2-3 hours), but not strenuous activity immediately before going to bed. Yoga can have a relaxing affect, helping prepare your body for sleep.
Don't sleep during the day.
Try to get into a daily routine to establish a sleep rhythm.
You can coincide your leisure time with your favourite television show for 15-20 minutes. You can also listen to some soothing music before going to bed or while you are relaxing.
Try drinking warm milk at bed time because an amino acid called tryptophan, found in milk, helps the brain produce serotonin, a chemical that helps you relax

Make sure your room isn't too hot or too cold.


I am a Class 12 student. I study at my desk for about 10 hours a day but develop severe backache by the evening. I take breaks three four times during the period. What else can I do? - Rishab Wazir.
Giving yourself regular breaks is a good idea, however, your backache could be because of following reasons:

Improper posture while studying

Uncomfortable chair

Weakness of back muscles and strain
You can take the following measures:

Use a comfortable chair for sitting while studying

Sit upright and do not lean

You can try putting a small pillow between the chair and lower back to support it

A light massage with lukewarm oil or pain balm will also help

If pain still persists, physiotherapy of back muscles is required with trained physiotherapist.
I'm in Class 10. I have been getting chronic headaches since November. I have two Disprins twice a day. Is it safe? What else can I do to get rid of the pain without medicine? - Ishan Karan.
Since you are appearing for your board exams this year, occurrence of headache can be due to the following reasons:

Stress or worry/ anxiety

Lack of sleep

Skipping meals

Too much caffeine

Sudden changes in sleep patterns

Incorrect neck posture

Excessive strain to the eyes
There are a number of other things that you can do to help avoid it:

The best way to prevent headache is to learn what triggers it (sets it off) and then try to avoid those things. Take a note of all such activities which tend to increase your headache.

Take a break from activities that provoke headaches, such as using the computer for a long time.

If pain is at the back of neck, a gentle massage of neck will help.

Do not skip any meal as it can lead to low blood sugar and headaches.

In case of severe headache, resting in a quiet dark room after one tablet of paracetamol will decrease pain.

If headache persists, get your eye examination done or spectacles checked.

Helplines:

CBSE has begun its first phase of counselling. Students can call 1800 180 3456.

Interact with CBSE chairman at jsctet.cbse@gmail.com or mcsharma2007@rediffmail.com

HT will publish queries and responses by CBSE.


How you can get help?

For any examination related queries call:

Disha: Pre-examination Helpline, a telephonic counselling services run by Snehi at 011-65978181 between 10 am and 7 pm from February 1 to March 3.
Close