First day in college: This is how we got ready for 'The Big Day'
Jul 27, 2015 07:06 PM IST
Finally, it is the start of a new beginning. With the reopening of Delhi University (DU) colleges, most of the fuchchas are going through mixed emotions of fear, excitement anxiety and dilemma.
Finally, it is the start of a new beginning. With the reopening of Delhi University (DU) colleges, most of the fuchchas are going through mixed emotions of fear, excitement anxiety and dilemma.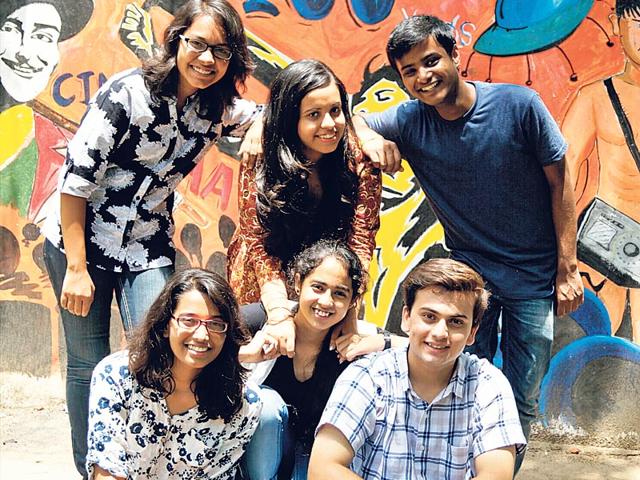 I, on the other hand, am still stuck in school mode and giving false assurances to myself that I have grown up. I still find it hard to reconcile to the fact that school life has finally come to an end. Even before college have started, I am mentally trying to settle the heated debate over the difference between school and ­college life.
Stay tuned with breaking news on HT Channel on Facebook.
Join Now
Then we have Jessica, who is thankfully one step ahead of me and has finally given up her obsession with school. She, however, is very nervous about the first day in college and is busy preparing a list of dos and don'ts .
We also have Ishita, who, just like me, has dared to occupy the judge's seat in the north campus versus south campus debate. She gives you an insight into life at the two campuses right from connectivity to the hangout spots. She gives an unbiased decision as she herself has taken admission in an off campus college.
Ria has come up with a perfect guide for freshers on how to be a DU student and how to dress the part, eat the part, act the part, something that students, especially those from outside Delhi, cannot ignore. She also introduces you to the lingo that you might think is alien to you, but which is a prerequisite to surviving the next three years.
Niharika brings in some good news for all shopaholic girls and shares her secrets about buying the maximum with minimum amount in Sarojini Nagar, Select City Walk, online stores etc.
Zaid writes about the places you are likely to be seen the most. Get to know about all the best hangouts and the tastiest delicacies of different college canteens, of the café at Hudson Lane, and also the "lover's adda".
So, gear up for 'The Day.' As Grace Hopper once said: "A ship in port is safe, but this is not what ships are meant for." It is time to sail into the vast ocean, but not let the stormy waters defeat you!
North vs south
Ishita Bhattacharjee
Facebook: ibhattacharjee26@gmail.com
Twitter: @ishie_b26
Instagram: @ishie_b
Now that I am part of the DU family, I would like to present my views on the age-old battle between north and south campuses. My views will be completely unbiased because I have taken admission in an off-campus college.
North campus gets one point for its on-campus feel. With around eight to 10 colleges adjacent to each other, you will find yourself surrounded by college students everywhere. South campus lags a bit in this case because colleges are scattered all over. What is the next most important thing a fresher looks forward to? It is the hangout spots. Though north campus has several hangouts apart from Kamla Nagar, but south campus gains an upper hand with this one, because of the several popular markets the colleges have in their vicinity.
Talking about easy conveyance, the winner of this round, undoubtedly, is north campus. Metro connectivity to south campus is not yet fully established, but reaching a north campus college is a cakewalk, owing to the well-connected Metro service and rickshaws. Both the campuses get a point each for the amazing eateries and the roadside snack stalls.
A mixture of raw emotions
Jessica Duggal
Facebook: duggal.jessica­­@gmail.com
Twitter: @jessicaduggal
Instagram: @duggal.jessica
It's all over again...Today as I pen down my thoughts and pour them out for you dear reader, while describing the weather conditions of the emotional island where I reside now, I am undergoing similar conditions of perspiration, giddiness, restlessness, and curiosity that I went through, some years back.....to be more exact, 13 years back. The only difference now,is that I am mature enough to define these feelings as anxiety and excitement.
Therefore, I dedicate my article to all my fellow freshers and aspirants, who like me, are going through the same phase of anxiety and transition from the protected walls of school to the open grounds of college. They say that starting college is one of the most daunting experiences a young adult faces, not only because of the sudden exposure to the unrestricted freedom and independence, but also due to relatively new surroundings and encountering new thought processes. And this feeling of anxiety gets worse as the time to begin college is inching forward.
I am more nervous than ever, not only because I am struggling to cope with the significant transition in my life, but also because I have my own set of expectations from college life like any other 'fuchchas' (fresher).
For some the term 'college' may connote freedom while for some it might symbolise maturity. However, whatever it might be, the fluttering butterflies in the stomach while thinking about college is felt by each one of us. If I was to answer what college meant to me, it won't be an easy task, as no single word would be able to capture the mixture of emotions running through me right now. The period of lull from the day I enrolled in my dream college, to the time the colleges actually start, is not helping me either.
If it were to me, then I would want my first day of college to be absolutely perfect with no embarrassing moments to haunt me on lonely nights. I would want it to be like my first day of kindergarten - which started with the shedding of some tears, but ended with me holding a chocolate in one hand and my best friends hand in the other. But then, I wouldn't mind a bit of surprise too, that would make it all the more worth remembering.
On a shopping spree
Niharika Maggo

Facebook: niharika.maggo@gmail.com
Twitter: @niharikamaggo
Instagram: @niharikamaggo
By now all of us have day dreamed about the much hyped college life. And when it comes to preparing for a new phase altogether, the first thing that comes to my mind is – shopping.
As we girls are known for loving this retail therapy, preparing for college would be just so incomplete without a shopping spree... right?
Delhi, the city which is considered a shopper's paradise, justifies this title completely. Be it a flea market like Sarojini Nagar or a mall like Select Citywalk, Delhi has it all.
If you like an easy-on-the-pocket way to follow fashion trends, then the Sarojini Nagar market is your ultimate destination. Cool T-shirts, chic dresses, funky jewellery, comfortable footwear, you ask for it and they have it. And the plus point is that all of this is available at a affordable price, ranging from Rs. 100 to Rs. 300.
All you need are good — actually super good — bargaining skills and a big bag carry all that ­shopping!
Coming to the big brands in the city, the sale season is going on, guys, and you can get super awesome merchandise at 70% discounted prices -- and who doesn't love a sale, right?
Then there are those online shopping sites. Big brands like Forever21 and other stores have gone online, 'virtual' saviours for those who want to stay protected from the sun and the rain and prefer shopping online.
And so colleges are starting. Many of you must be worrying about the clothes to wear... but my dear friends amid all this do not forget that you are your own kind of beautiful. So keep shopping but also be happy, be bright, be YOU.
Grub, love and more
Mohammad Zaid
Facebook: m.zayd.h@facebook.com
Twitter: @Ht_MZaid
Instagram: insta- @m_zaid_h
What makes DU so special? To find out, I took a trip through the paths of north campus and believe me, I was not disappointed.
I started out my journey by trying out different delicacies in DU canteens: the cheese scrambled eggs and dill pickle sandwiches at St. Stephen's, the famous shahi paneer at Hindu canteen and the delicious pasta at Tom Uncle's point.
As I moved forward, I could feel love in the air. This rather interesting place is known as Bonta Park located on the Kamla Nehru Ridge. A lush green park, it has one of the most romantic DU stories and is the ultimate 'lovers' adda', as the locals like to call it.
Moving towards the outskirts of DU, I came to Kamla Nagar, a lively market buzzing with showrooms, bookstores, small shops and spicy street food vendors. This place is one of the most common hangout places and students throughout the north campus choose it as the ultimate spot for chilling out. The market is closed on Mondays.
Full of curiosity, I moved forward and came across Hudson Lane. It houses a lot of famous cafes like QD's Yolo Hudson Café, Big Yellow Door Café and Vintage Avenue.

While most students pick up the canteens or green lawns of their respective colleges to hang out in, the bhelpuri wallahs and banta wallahs are a hit throughout DU. You can always find big crowds around these small stalls set up outside almost every college.
Concluding my trip at the Vishwavidyalaya Metro Station, I could find students looking at all the posters put up there, purchasing funky bands and necklaces and cooling down with freezing soft drinks under the scorching Delhi heat.
As I wound my way towards home I couldn't help but appreciate what DU had to offer apart from its reputed academic significance and highly ranked institutions.

All in all, it was a wonderful ­experience. The level of enthusiasm among the students was phenomenal. Even under the unbearable Delhi heat, you could see everyone smiling and enjoying themselves.
From school to college

Tushar Priyadarshi

Facebook: tusharpriyadarshi@yahoo.co.in
Twitter: @tusharscs
Instagram: @priyadarshitushar
It seems just yesterday when I held my mother's hand and entered the school gate, but alas! 13 years have passed and now she awaits the beginning of the next lap in her son's life!
Before I even start with college, the fear of stepping on to the next rung on the ladder of life is giving me endless sleepless nights. After all, time has come when we shall enter a world without walls, a world altogether distinct from the secure boundaries of school.

The doors of college appear to be appealing doors to freedom; freedom of missing classes, freedom of going to the canteen and the library as per our will. The fear of ragging is something we did not experience in school. But as long as it is "healthy ragging", I personally see it as just a way of breaking the ice with seniors. It is also an opportunity to make new friends and find mentors that will guide us through the three years in college.
Although I would miss home (specially mom's gourmet delights), the thrill of hostel life that I've heard about is something I am eagerly waiting to experience as it shall help me become a self-dependent individual.And while I do experience pangs of separation from my school buddies, what I also experience is a sense of excitement about meeting new people. Who knows, the person standing right behind me in the queue could become my best friend!
Discover stuff, people, places
Ria Yadav
Facebook: ria.yadav97@yahoo.in
Twitter: @riaya_
Instagram: @riaya_
Here you go friends, after intense research work I have managed to compile a list of what it takes to become a DU fuchcha. The period after admissions and the time when college actually starts is a time for pondering, wondering what to wear, how to behave etc. So, here's some advice from me!
Dress the part: Though one of my fellow CJs is better equipped to explain this, on my recce to DU I observed the outfits, too, and from those observations, it's clear that DU students know how to dress well, so you must too. Don't go overboard, though. Wear something you are comfortable in. Kamla Nagar has everything from top brands to street stalls, you can get cool stuff to wear from other places. Look out for good bargains.
Eat the part: Street food, banta wallahs, famous canteens, are all scattered around DU, vying for your attention. Drop by sometime and taste some finger-licking goodness. The ultimate DU experience would be incomplete without this.
Explore the campus: Walk around the campus and discover the well-known hangouts and make some your own. The exquisite buildings and gardens would be best explored with a band of people whom you'd call friends some day. The University has strange and amazing places, from the Virgin tree at Hindu College to the DU souvenir shop near Miranda House, the wall art of Satya Niketan. Just hop on an e-rickshaw and discover stuff, places and people.
Act the part: DU students seem to have their own language. From K-nags (for Kamla Nagar) to g-jams (for Gulab Jamun), this lingo is very interesting.
Be active: My college prospectus is filled with names and details about societies and clubs, which I'm eager to take part in. A person must cultivate his or her interests and you'll get that opportunity in college. So, remember to let your hair down once in a while and pursue your hobbies.