Hindu College seeks more autonomy, in talks with HRD ministry on process
Updated on Apr 18, 2018 09:52 AM IST
Hindu College asked the Union human resource development ministry if there was a provision under the Delhi University Act to grant autonomous status.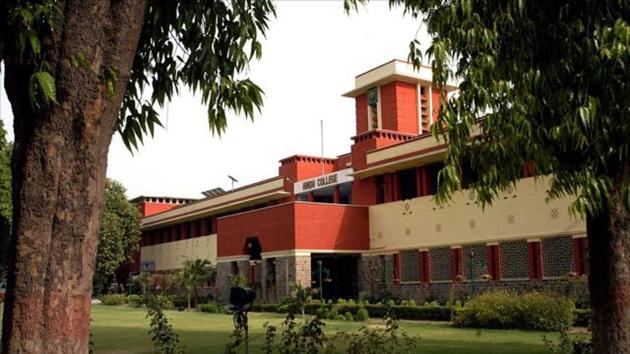 Hindu College has asked the Union education ministry whether a college would face a fund cut if it applied for autonomous status, in a possible first step towards seeking greater autonomy from Delhi University, according to two people familiar with the development.
The college also asked the Union human resource development (HRD) ministry if there was a provision under the Delhi University Act to grant autonomous status, the people quoted above said.
St Stephen's College — regarded as Hindu College's great rival — had applied for autonomous status last year and its application has been pending a clearance from Delhi University.
The application was preceded by a protests from certain students' and teachers' groups that wanted the college to remain more closely linked with the university.
According to the University Grants Commission (UGC) Guidelines for Autonomous Colleges - 2017, a college that comes under the scheme started last year can determine and prescribe its own courses, restructure and redesign its syllabus, and become skill-oriented in consonance with job requirements.
An autonomous college is also empowered to prescribe admission rules in accordance with prevalent reservation policies, evolve methods to assess students' performance; conduct examinations; and launch self-financing courses, among other actions.
Autonomy for a college also empowers it to announce results, issue mark sheets, migration and other certificates. However, the degree will be awarded by the university with the name of the college on the degree certificate.
Officials from Hindu College met senior HRD ministry officials last month to seek clarity on some of these provisions, a government official said. Despite repeated attempts, the principal of the college could not be contacted for comments.
When asked for clarifications about the autonomous colleges scheme, secretary, HRD ministry, R Subrahmanyam said: "There will be no reduction in the government grants on account of autonomy. The autonomy is to promote academic excellence and has no relation to financial elements. The purpose is to promote more academic freedom so that these institutions can devise courses that are more aligned to the societal and market requirements."
UGC is planning to convene a meeting with college principals across the country to dispel "misconceptions" on the issue of autonomy. It will use the opportunity to provide information on the scheme, and clarify monetary concerns.
"A number of colleges are approaching the government who wish to apply but have certain queries and reservation especially regarding fund cuts. The application of St. Stephen's has also been pending. After not getting a go-ahead from Delhi University, it was assumed that they don't have any reservation over their application. An inspection will be carried out by an expert team following which they will be granted autonomous status," said a senior UGC official on condition of anonymity.