How Anirudh Deb, Allahabad region CBSE Class 12 topper, aced it
Think board topper and one is greeted with an image of a serious-looking teenager with nothing but studies on his mind. But behind the Allahabad region topper, is a chilled-out and a smiling teen.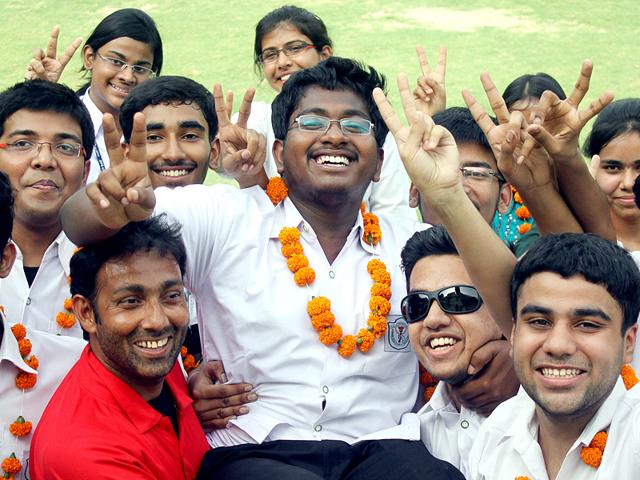 Updated on May 26, 2015 07:03 PM IST
Did you just say all board toppers are serious-looking teenagers who can't think of anything but studies? Meet Anirudh Deb, the Allahabad region topper in this year's CBSE Class 12 exams, and you will eat your words. Except for his glasses, Anirudh of Delhi Public School, Eldeco branch, is anything but what you always thought toppers are like.

This Lucknow boy is tech-savvy, and has even designed computer games during his high school days. His fun-loving persona, a wide grin permanently marking his face and a 'chilled-out' attitude towards life makes it hard to guess that he has scored a whopping 492 out of 500, just 4 less than M Gayatri, the All-India topper from Delhi. He scored an impressive 98.4% with a perfect 100 in Maths, 99 in Physics, Chemistry and Computer Science, and 95 in English.

"I didn't believe the score initially, but it started sinking in slowly. A topper in the Allahabad region was totally unexpected. I thought I would be lucky if I am even able to cross the 90% mark," says Anirudh, who enjoys playing cricket and is fond of painting.

He is also fond of art, which he says is filled with thought-provoking messages about the world today.

His preparations were neither unconventional nor did he take any tuition. "I used to start studying in the evening around 5-6 pm and continue till late in the night after dinner. I tried studying in intervals, which I believe is more beneficial than cramming. I distributed my learning time that again helped me in long-time retention of concepts," he said.

Anirudh appeared for the JEE examinations a day before his results and is optimistic of getting into a good college. He wants to make career in Physics.

Eventually, he hands out some tips for scoring well in the board examination. "It is very important to get your basic concepts clear. If you have clarity at the outset, you won't need to waste time on revisions. I utilised my extra time to relax and lessen the stress," he says.

"If we create a study plan in advance, it gets easier to study each subject in its entirety. Fix a particular study spot and you are good to go. I was regular on the social media and would turn to Facebook regularly for quick diversions between lessons. But don't entirely arrange your schedule around this activity. Be focused more on intricate concepts than status updates," he added.

Anirudh gives credit to his father Ajit Kumar Deb, a clerk in Mandi Parishad. "He has been very supportive and helpful, cooperating with me a lot in handling stress before the exams," said the topper.
Close Story
Personalise your news feed. Follow trending topics