ISC result 2018: Lucknow lad fulfills father's last wish with flying colours
Updated on May 15, 2018 12:29 PM IST
Anmol Srivastava secured 100% marks in mathematics, in the ISC paper that he took hours after his father's death.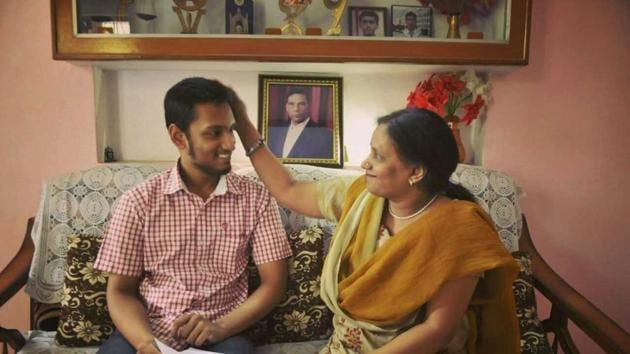 While preparing for his ISC Class 12 examinations, Lucknow lad Anmol Srivastava, 17, had no idea that life had a tougher test in store for him.
On February 26 morning, the day his mathematics examination was scheduled, Anmol's father Ajay Kumar Srivastava passed away following a heart attack.
However, the personal tragedy did not deter this gritty boy from coming out with flying colours in his examination, fulfilling the last wish of his father.
He secured 100% marks in mathematics, the paper that he took hours after his father's death. Scoring an aggregate of 98.25 per cent marks, Anmol scored 100 each in computer science and physical education, 97 in physics, 95 in chemistry and 93 in English.
"It was the most horrifying moment of my life. I was crying bitterly and was not in a position to appear for the examination. I told my mother I would not take the mathematics paper," recalls Anmol.
"But my mother told me that a few moments before his death my father told her that I should give the examination. My father had said to her that even if he dies, his last rites could wait but I should not skip the examination," said Anmol, student of City Montessori School, Kanpur road branch.
"At 10 am, I was in the hospital sitting near my father's body. The reporting time at my school was noon and the examination was to start at 2 pm. I had only 2 hours to dress up and reach school," he says, adding that whatever he had studied was washed away in the grief.
"Words cannot describe the pain and trauma I was going through while I was taking the examination," he says.
"My father worked in a public sector unit and was good at mathematics. He helped me in solving difficult calculations with ease. I scored 95.4 per cent in ICSE examinations because of mathematics," Anmol adds.
Anmol's mother Rekha Srivastava, 48, says: "After appearing for the examination, Anmol returned home and cried for long sitting next to his father's body. He was shattered and inconsolable."
The last rites of Anmol's father were performed on February 27 and the next day he took his English paper.
"I was completely shattered. Probably it was because of my father's blessings that I could write my paper," he says.
"My elder brother Anupam Srivastava is pursuing B Tech. Now, our aim is to fulfil our father's dream and to take care of our mother. My father was my role model and will remain so throughout my life," he says.
Anmol has also qualified the JEE Mains and is confident of doing well in JEE Advanced. "My father wanted me to pursue B Tech with computer science. I will work hard to fulfil his dream," says Anmol.
"My school principal, class teacher and computer teacher supported me a lot. My relatives, maternal uncle and neighbours helped me in my trying times," he says.
After the results were declared on Monday, his mother prepared 'peda' (a sweet dish) for him. "It was my father's favourite sweet," recalls Anmol as tears rolled down his eyes.