JNU teachers go on strike despite varsity warning
Nov 27, 2018 12:21 PM IST
Jawaharlal Nehru University Teachers' Association (JNUTA) on Monday took part in a daylong hunger strike at the administrative block on campus.
Demanding "restoration of academic and institutional functioning of the University", the Jawaharlal Nehru University Teachers' Association (JNUTA) on Monday took part in a daylong hunger strike at the administrative block on campus.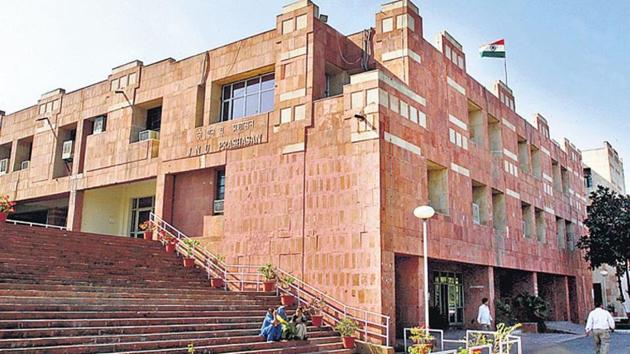 The strike was observed despite a warning from the JNU administration, wherein they had cited a Delhi high court order from last year. According to the high court ruling, no mass gatherings is allowed with a 100-metre periphery of the administration block.
Maintaining that the decision to go on a hunger strike was taken due to the "onslaught" on the teaching-learning process at the university, JNUTA secretary Avinash Kumar said: "The teachers and students of this university have been fighting this sinister design of the administration for more than two years now. However, the onslaught continues. The JNUTA demands that arbitrary circulars regarding the rescheduling of the academic calendar and compliance of faculty attendance be immediately withdrawn by the administration."
On Sunday, the JNU administration had issued a notification, saying that it won't grant leaves to faculty members who do not follow the attendance rule.
"Threatening teachers for biometric attendance is a violation, in letter and spirit, of the Right to Privacy provided by the judgments of the Supreme Court. We also demand that installation of biometric machines be immediately stopped," Kumar said.
JNUTA president Atul Sood said the administration did not allow them to bring tents, mattress and blankets at the site of the protest.
"The teachers will be sitting on strike for the whole night but the administration did not allow us to bring necessary items. They also barricaded the roads to the administration block and deployed a large number of security personnel there," he said.
However, JNU registrar Pramod Kumar said, "How can we allow teachers to bring tents and mattress at the place where protests and gatherings are prohibited? On Sunday, we had requested the JNUTA not to hold the proposed hunger strike at the administrative block because any gathering at the spot is a violation of norms as per the rules and regulations of the JNU. It is illegal."
He maintained that the matter will now be reported to the university's executive council (EC) and disciplinary action will be taken against those found guilty of violating norms.
Later in the day, the JNUTA issued a statement, stating there was "nothing illegal" about their strike.
"Peaceful hunger strike is very much as per our Constitutional rights. There was no disturbance on the campus and all activities, including exams and presentations, went on as scheduled. We had invited the vice chancellor for a public discourse but he refused to come. We were left with no option but to strike outside his office," the JNUTA statement read.