Mapping the way forward for the preschool segment in India
Oct 31, 2018 11:13 AM IST
Preschools that teach basic life skills in a global educational environment help in cultivating a love of learning that goes a long way towards making your child school-ready.
Wordsworth has rightly said "Child is the father of man" in his poem 'The Rainbow'. In simple words, this phrase means adults are the product of the behavior, etiquettes, thoughts, and habits that they inculcate during their childhood. Indeed, it is our responsibility to raise smart kids by imparting good education and instilling moral values so that they can grow into well-rounded, self-reliant and responsible global citizens.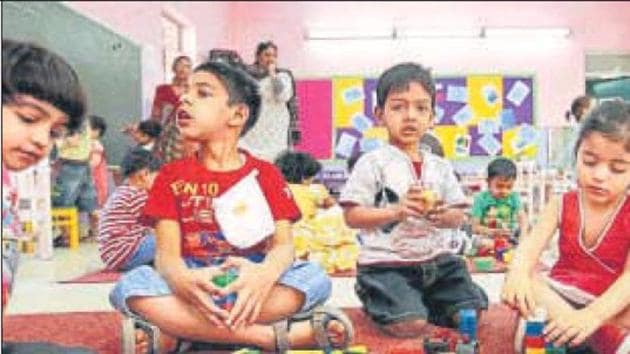 Pre-primary school education is an early childhood education trend that is fast catching up in India. Preschools, also known as playschools prepare your toddler for a lifetime by building a robust foundation for your child's overall development. These schools play a key role in boosting the self-esteem of your children and optimizing their learning habits to mould them into future leaders.
A GOOD PRESCHOOL PREPARES YOUR CHILD WITH THE NECESSARY SKILLS
High-quality preschools present a fun learning environment to prepare your child for their future. Preprimary education imparted in playschools trains your child to develop a global mindset.
They are taught to appreciate multiculturalism so that they develop a sense of acceptance for other cultures from a tender age. Besides this, preschools also conduct team building activities for toddlers to promote teamwork which in turn instills a cooperative spirit in kids besides making them a good listener.
Preschools that teach basic life skills in a global educational environment help in cultivating a love of learning that goes a long way towards making your child school-ready. This is why parents who are aware of the importance of quality early education are taking the preschool route to develop the social, emotional, linguistic and cognitive skills of their children.
PRESCHOOL MARKET IN INDIA
The worldwide market for India Preschool or Child Care Market is expected to grow at a CAGR of roughly 31.8% over the next four years till 2021.
Taking into consideration the huge parental demand for preschools even in tier 2 and tier 3 cities in India, the key players in the preschool sector are expanding wings across the length and breadth of the country. As a result, the pre-school market in India is witnessing an exponential growth.
The following factors are driving the growth of preschool segment in India
• Increasing demand for first rate preprimary education for children;
• Improved standard of living;
• Increase in the number of working mothers;
• Increase in nuclear families; and
• Increase in disposable personal income.
These factors are also encouraging numerous innovative players to penetrate the Indian preschool market which appears to be highly competitive as all the pre-school vendors are competing hard to capture a greater market share by offering stateof-the-art teaching and learning techniques.
CHALLENGES AHEAD
Though the preschool education sector is booming in India, it has its own challenges. The Indian preschool market is subjugated by the unorganized sector that lacks quality infrastructure and a consistent curriculum for imparting high-quality education. The unorganized sector is facing the following implementation challenges that are deteriorating the quality of preprimary education.
High rental costs pose a major challenge as it weakens the profitability of preschools. Setting up new preschools with proper infrastructure and qualified teachers and security staff involves huge expenses and a significant investment in realty, particularly in Tier I cities. Lack of strict government regulations results in a lot of inconsistencies in the curriculum.
Last but not least, lack of awareness among Indian parents especially in smaller towns prevents them from enrolling their children in preschools. However, these challenges can be resolved by embracing the franchisee model or teaming up with corporate houses and builders to reduce the operational costs besides modernizing infrastructure facilities. At the same time, preschools should roll out campaigns to reach out to parents for spreading awareness about the importance of informal education for their child.
THE WAY FORWARD
Despite the challenges, the organized playschools operating on franchise models are all set to flourish in India. The current scenario suggests that preschool sector in India will witness tremendous growth in next few years with an increase in demand for branded or organized play schools. Considering the potential of Indian preschool segment, international preschool chains are also eyeing the market sensing a huge growth.
Having said that, regulation of preschool sector in India is the need of the hour as it will help set standard parameters to assess the competence of preprimary education imparted in such schools.
(The author is co­founder, Early Learning Village & Wonderland. Views expressed are personal)