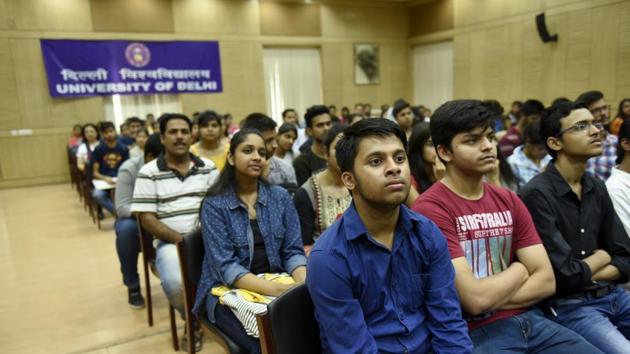 Unique BTech course at DU's innovation centre
Students can pick one among 3 substreams: electronics & embedded systems, system biology, and economics & management
Hindustan Times, New Delhi | By Chandana Krishnegowda
UPDATED ON JUN 14, 2018 09:19 AM IST
Cluster Innovation Centre (CIC), University of Delhi, offers a unique four-year BTech programme in Information Technology & Mathematical Innovations that aspires to "inculcate an innovation mindset as part of the curriculum and pedagogy."
It is the only BTech programme for which DU conducts its own centralised admission procedure, said Gurpreet Singh Tuteja, the deputy dean of students welfare. Netaji Subhas Institute of Technology (NSIT), which is also affiliated to the university, admits students based on one's score in the JEE (Mains).
The centre received over 200 applications over the past two years. However, only 40 students were admitted each year. Following DU guidelines for seat reservations, CIC bases its admission on an entrance exam after considerably low cutoff of 60% (general) in 'best of four' subjects, including mathematics. This year, the entrance exam will be conducted on June 21.
The CIC course structure is different from conventional BTech programmes. "We are not like any other BTech programme" said Dr HP Singh, director, CIC. "We believe in being mentors and guiding students to pursue their academic interests."
HANDS-ON APPROACH
The evaluation structure at CIC gives a 60% weightage to hands-on innovative learning.
It involves working on individual projects for courses, semester-long projects, and summer internships between semester one and seven. The eighth semester is a six-month industrial internship where the students write their undergraduate dissertation.
"These projects and summer internships are part of the curriculum and are graded. This both incentivise independent study and excite students about the things they are studying in theory," said Shobha Bagai, the BTech programme coordinator.
CIC has a well-equipped campus with state-of-the-art amenities. While classrooms are laptop-friendly and have access to projectors, their labs are equipped to facilitate innovation-based research.
APPLICATION-BASED LEARNING
In addition to the required papers in IT and applied mathematics, CIC lets their students pick one among three substreams (equivalent to minors) — these are electronics & embedded systems, system biology, and economics & management. These minors are offered to students beginning from the third semester and helps in shaping their postgraduate field of study. "Beyond the core subjects, one needs to apply these concepts. While the applications are not limited to these sub-streams, we are bound by logical constraints," added Bagai.
FREEDOM TO CHOOSE
"The BTech programme aims at providing students with the choice of choosing their areas of interest" said Bagai. There are courses such as 'environmental consciousness', 'art of communication', 'creative writing' and 'science, philosophy, truth'. The students have the option to pick a mentor from outside their institution as well.
Close