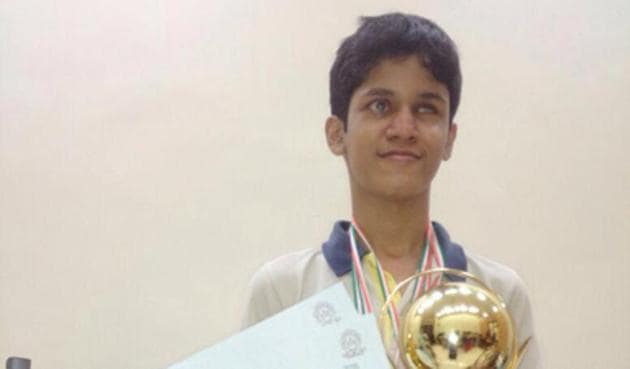 Visual impairment no barrier for this robotics olympiad, IT challenge winner
Differently-abled students need empathy and backing, and not sympathy or pity, to excel and thrive on a level playing field
By Bhavya Shah
UPDATED ON DEC 21, 2016 03:33 PM IST
Every person has that inescapable turning point in life that transforms his life completely – his outlook, philosophies and choices. I experienced mine at the age of 11, when both my natural cameras diffused forever, and I could see no more. In actuality, I was diagnosed with RD (Retinal Detachment) at the tender age of 5, due to which my retinas were identified as inherently weak and prone to detachment. Over the course of the next six years, I grappled with diminishing eyesight, struggles in school, and eight eye operations. These cliffhangers culminated in complete blindness.
More than me, it was my parents who were distraught and shattered by the finality of my visual impairment, but they regained hope and tenacity equally fast. With the support of my unconditionally encouraging parents, my instrumental friends, teachers and school staff at Gopi Birla Memorial School, Mumbai, and most importantly my rehabilitation trainers at the XRCVC (Xavier's Resource Centre for theVisually Challenged), ages have gone by since those supposedly catastrophic events took place. I am in the 9th grade now, that too in the same mainstream school, studying with my same sighted peers the same school subjects and syllabus.
I take notes in class, read my textbooks, and work on other assignments and activities all independently on my computer, which I bring to school daily. Equipped with a screen reading software called NVDA (Non Visual Desktop Access), my laptop reads out all on-screen content in synthetic speech and takes in my inputs through various keyboard combinations and shortcuts I issue. I appear for school examinations like English, science and social studies digitally as well, and utilise a scribe for Hindi and maths (due to inaccessibility of the question paper's soft copy). Having participated and even won at several prestigious events, including the World Robotics Olympiad, TCS ITWiz, Global IT Challenge for Youth with Disabilities, Indian International Model United Nations Championship conference, I obtain that assurance of the irrelevance of my visual disability to my capabilities and competency.
In my view, integrating children with special needs in an inclusive environment not only involves providing flexible education through assistive aids, but also necessitates the immediate immaterial surroundings to have a broader horizon, to accept the limitlessness of possibilities, to have an open mind, and perceive disability and diversity with appreciation. It is empathy and backing differently-abled children must be rendered with, and not sympathy or pity, in order for them to excel and thrive on a level-playing field.
The author is a 15-year-old ninth grader studying in Gopi Birla Memorial School, and holds key interests in science and technology, international politics and guitaring. Students interested in sharing their thoughts with us can email hteducation@hindustantimes.com, with 'Your views' in the subject.
Close