What Brexit means to Indian students
While studying in the UK is likely to become cheaper after Brexit, universities will also go all out to woo Indian students, say experts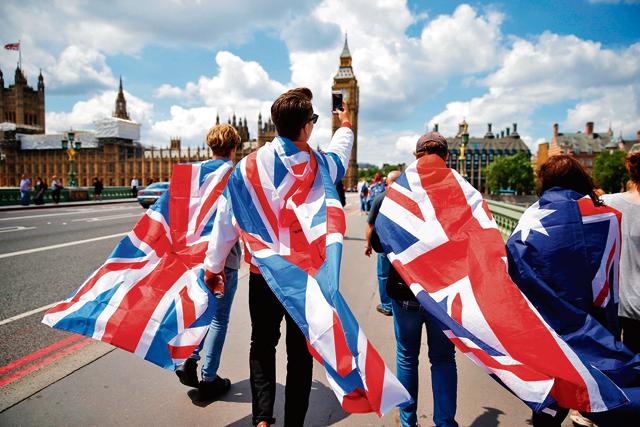 Published on Jun 28, 2016 06:04 PM IST
Hindustan Times, New Delhi |
Gauri Kohli
A lot has changed for the UK in the last few days since Brexit – the country's decision to quit the European Union (EU). The stability of UK's economy and its equation with EU is now under the scanner. Higher education is an important domain which is likely to see major changes after Brexit, particularly for Indian students aspiring to study in the UK and EU.
Experts say that it will take at least two years for formalities following Brexit to finally be in place. Given this scenario, will UK see a further drop in the number of students from India and will UK universities introduce more stringent policies for international students, particularly Indians?
Will studies get cheaper?
A lot of you must be wondering if studying in the UK will become expensive or if the post study work visa rules will make it harder for Indians to choose the UK as a destination.
The impact on the economy and the pound is already noticeable, with the pound recovering slightly after the initial free fall. According to Sanjeev Roy, higher education expert– EU public diplomacy and outreach in India and in the SAARC, "This will affect Indian students in many ways. Studying in UK was never this inexpensive. The fee will reduce and this means that more students can now dream of studying in the UK."
However, students need to be cautious. Rahul Choudaha, CEO of DrEducation, a US-based global higher education research firm, says, "In the immediate short-term, direct cost of studying in the UK will be declining due to currency devaluation. However, uncertain prospects for finding work opportunities will make it (difficult for students to) recover direct cost and hence overall cost of study in the UK will still increase." Visa issues can be resolved if the UK government brings in a separate visa policy for Indians and other Commonwealth nations.
According to Carly Minsky, student content editor, Time Higher Education, UK, "For international students outside the EU who are already required to pay international rates, tuition fees will not be directly affected by Brexit, although there are various factors which could affect the cost. If the pound remains weak against students' home currency, these students ultimately will find themselves better off when they pay tuition in sterling. However, if universities suffer financially after Brexit, whether due to a lack of EU funding or fewer EU citizens deciding to study at UK universities, they may decide to increase fees for international students to make up for the deficit."
Student mobility
According to Choudaha, the number of Indian students coming to the UK declined by 53% from 2010-13 to 2014-15 in contrast to increase in students headed for the US. "The UK had been witnessing a decline in the number of Indian students due to policies that did not favour students in gaining work experience. Given that Indian students are value-seekers, they prefer to recover a part of the cost of education by gaining work experience. Post-recession, UK policies have been making it consistently more expensive and difficult for international students to study and stay in the UK. Decline in work opportunities along with uncertain economy and stricter immigration policies will make UK less attractive for many Indian students," he says.
While this may be the immediate fallout of Brexit, the silver lining to the cloud for UK is that the number of Indian students can still go up in future. "UK universities have shown a lot of interest in India, which is a big market for them. Earlier, (a larger) number of students chose UK for postgraduate studies but the trend is changing with undergraduate courses also being in demand. UK universities will now try to attract more Indian students and they cannot afford to ignore Indian students or their association with Indian institutions, particularly with the pending foreign education bill and the recent announcements by the ministry of human resource development regarding tie-ups with foreign institutions," says Roy. The number of Indian students in the UK is perhaps the lowest in the last decade and efforts henceforth by the UK universities and the government will be made to improve the situation.
As per the Higher Education Statistics Agency, UK, there were about 10,000 first-year Indian students in the UK in 2004-05, a number which grew steadily to cross 20,000 between 2008 and 2011. However, with the strict work policies and immigration rules, this dropped drastically from 2011 and was back to 10,125 in 2014-15.
Despite this, India was second in terms of non-EU first-year enrolments in the UK with 6% of non-EU first year enrolments in 2014-15, along with the US. However, while numbers from US have remained stable over these five years, the share from India has decreased from 14% in 2010-11. India was second largest in the list of non-EU countries across all enrolments, representing 6%.
According to the UK Council for International Student Affairs, Indian students are the next largest cohort in the UK after China with 18,320, although this represents a continuing drop from the previous year and the year before. The impact of Brexit could also mean more students going to Scotland and Ireland for higher studies. "These destinations now have an edge and will be even more aggressive in attracting Indian students," adds Roy.
Impact on student funding
Student funding in terms of the number and value of scholarships and fellowships to the UK might bring in good news for Indian students, says Roy.
"After Brexit, UK universities and other funding agencies such the British Council are likely to get aggressive in terms of offering scholarships, full or partial, to attract Indian students. The number of UK varsities coming to India to woo students has gone up. Their education policy will focus on welcoming students from all over and will have to think out-of-the-box to get in more Indian students. Scholarships under schemes such as Great Scholarships by the British Council, Dr Manmohan Singh Scholarships and Chevening Scholarships, besides scholarships by universities, will go up," adds Roy.
Given the decline in Sterling, the amount of loan needed to study in the UK will decline, says Choudaha. However, there could be an impact on the funding schemes linked to the EU. "Scholarships and fellowships connected to EU projects are likely to be scrapped," he says.
Any funding for Indian students linked to the EU may decrease after Brexit, but this is dependent on agreements to be worked out over the next few years. Otherwise, independent funding sources should not be affected," adds Minsky.
UK versus EU
Despite being a consortium of 28 countries (now 27), EU has always been a dormant study destination for Indian students with nearly 55,000 students pursuing mostly postgraduate programmes as compared to the UK. UK has always been a more popular country than all the EU nations put together.
"In the last few years, however, this perception has changed. Majority of programmes are taught in English and students always have the advantage of learning an additional language when they go to a country like Germany, France or Spain to pursue mainly master's programmes. Funding schemes such as Erasmus+ are a great way to attract foreign students. The European Union's Delegation to India has been working closely with the Association of Indian Universities and MHRD on outreach programmes to attract Indian students. The European Higher Education Fair is one such example," says Roy who has worked closely with the European Union's Delegation to India and the delegation's education fair.
Given the strong anti-immigration undercurrent for Brexit, it is likely that EU will take a more welcoming stance for international students, says Choudaha.
However, until there is clarity on various deals between UK and EU, movement of students between UK and EU will bring along several questions. Says Minsky, "The university sector has been calling for net migration figures to exclude international students since before the Brexit vote. If international students are included in migration targets, and if EU students are newly classed as international, there could be tighter restrictions on the number of international students who can take up a place at a UK university. However, if fewer EU students decide to come to the UK, universities may increase their recruitment of non-EU international students to fill the places."
Despite an apparent desire among the majority of UK voters for tighter controls on immigration, academic organisations, UK universities and the mission groups that represent them will endeavour to protect the status and recruitment of international students and are seeking assurances to this effect from the government, she says.
Advice to Indian students
"Do not make any hasty decisions or change your study plans before it is clear what agreement the UK will make with the EU. Aside from the impact on the market, little is expected to change before the two years for negotiation is up. While it is possible that there are big changes ahead with respect to tuition fees, research funding, visa restrictions, work opportunities and free movement across Europe, no one currently knows what form this will take or what the impact will be," says Minsky.
Close Story
Personalise your news feed. Follow trending topics