On Amit Shah's 'permanent peace' in Gujarat remark, opposition leaders' attack
Nov 26, 2022 02:18 PM IST
Gujarat elections: The comments come as the state prepares to vote in two phases next month.
As Gujarat gears up to vote next month for the assembly elections in two phases, Union Home Minister Amit Shah on Friday said that the BJP - ruling in the state for 27 years - has been able to establish "permanent peace" in the state. He was attacking the rival Congress when he referred to the communal riots, which were "rampant" in the state. Some opposition leaders, however, have targeted Amit Shah over the comment, linking the remarks to the release of convicts in the Bilkis Bano gang-rape case.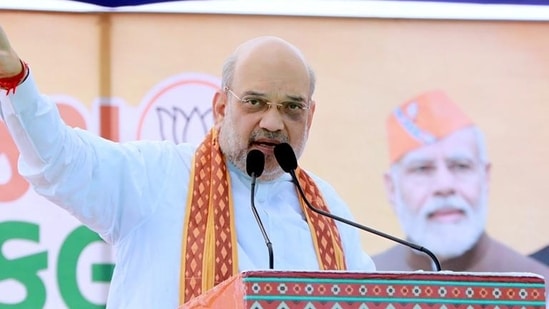 When the Congress was ruling in Gujarat, the Union Home Minister said, "The party used to incite people of different communities and castes to fight against each other. Through such riots, Congress had strengthened its vote bank and did injustice to a large section of the society." He further added saying: "We taught them (the Congress) a lesson for their misdeeds in the 2002 elections under Prime Minister Narendra Modi's leadership. Gujarat has seen no curfews or communal riots between 2002 and 2022, and the people here live in permanent peace and prosperity."
Stay tuned with breaking news on HT Channel on Facebook.
Join Now
Hours later, speaking at a public gathering in Ahmedabad, Hyderabad MP Asaduddin Owaisi linked the statement to the release of convicts in the Bilkis Bano gangrape earlier this year. "In his speech, he said several times that whatever lessons were taught in 2002 have helped establish peace in the state. I would like to tell the MP of this area, and the Union Home Minister that the lesson you taught was - 'you will release those who raped Bilkis'. What lesson was taught that those who killed Bilkis's 3-year-old daughter - in front of her - will be released… that Ehsan Jafri will be killed." Bilkis Bano was 21 years old and five-months pregnant when she was sexually assaulted. The men - convicted of raping her - also murdered seven of her family members, including her daughter. Former Congress lawmaker Ehsan Jafri were among those killed in the Gulbarg Society massacre during the 2002 riots.
"Justice is served only when the weak get justice. Remember the seat of power is snatched from all. Drunk with power, the Union Home Minister is saying they taught a lesson…Amit Shah sahab, what lesson did you teach that communal riots took place in Delhi?" Owaisi added.
Apart from the leader of the AIMIM (All India Majlis-e-Ittehadul Muslimeen), Rajya Sabha MP Priyanka Chaturvedi of the Shiv Sena (Uddhav Balasaheb Thackeray) also tweeted about the comments. "Releasing the rape convicts of Bilkis Bano was a part of 'teach them a lesson' agenda? (sic)" she wrote.
"They Were Taught Lesson In 2002, Permanent Peace In Gujarat': Amit Shah. This is the Home Minister of India. All the perfumes of Arabia will not sweeten his not-so- little hand. (sic)," tweeted Trinamool Congress MP Mahua Moitra.