Bhim Army's Chandra Shekhar Azad loses to Yogi in Gorakhpur, forfeits deposit
Updated on Mar 11, 2022 12:37 PM IST
2022 UP Assembly election: Bhim Army chief Chandra Shekhar Azad said he accepted the people's mandate in Gorakhpur.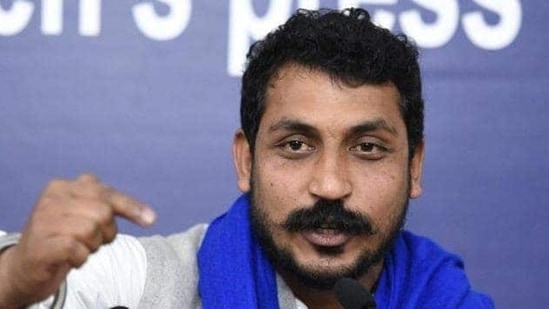 Bhim Army chief Chandra Shekhar Azad lost the election from Uttar Pradesh's Gorakhpur (urban) seat yesterday. He finished fourth with 7,543 votes - behind the Bahujan Samaj Party's Khwaja Shamsuddin, Subhawati Shukla of the Samajwadi Party, and UP chief minister Yogi Adityanath, who claimed over 1.64 lakh votes in his stronghold. Chandra Shekhar Azad - a vocal critic of Yogi Adityanath and the ruling BJP - has also lost the security deposit.
Full coverage: 2022 Assembly elections
Azad tweeted Thursday after his defeat to say he accepted the people's mandate and thanked party workers for their hard work. He said his Azad Samaj Party (Kanshi Ram) - which was set up less than a year ago would become a grassroots-level movement to strengthen the opposition in UP and that he would continue to fight for social change and equality.
"Today we accept the mandate and thank the bahujan samaj that for the first time in the Assembly election, our party was introduced to the general public by your hard work."
"We have to take forward 'bahujan hithay, bahujan sukhay'. For this, there is a movement at the grassroots level to strengthen the organisation. I appeal to all of you comrades to be ready for the struggle, our fight will continue for social and power change, thank you."
The battle for the Gorakhpur (urban) seat was never really in doubt - it is part of the Gorakhpur Lok Sabha constituency that sent Adityanath to Parliament for five terms between 1998 and 2014. It is also the HQ of the Goraknath Math, of which Adityanath is the head.
READ: Yogi Adityanath, contesting first state poll, wins stronghold in landslide
The seat has also been with the BJP since 1989 (it was won by an associate party in 2002), meaning there was practically no chance Azad could engineer a staggering win.
The BJP eventually won the seat by over one lakh votes.
List of winners of 2022 UP Assembly election
Like Adityanath (and Samajwadi Party chief Akhilesh Yadav), Azad, also called 'Raavan', was also contesting his first state election;.
It was, in fact, his first election of any sort.
In 2019 the Bhim Army chief said he would contest the Lok Sabha election from Varanasi against Prime Minister Narendra Modi.
However, he later said that since he had no party of his own at the time he would help Maywati's Bahujan Samaj Party instead.
READ: UP election 2022 in numbers: 10 points
Ahead of the 2022 Assembly election Azad, now with his own party, held seat-sharing talks with Akhilesh Yadav but those collapsed. Azad said he felt 'cheated' by the Samajwadi leader.
The BJP swept to a second term in UP yesterday, winning 255 seats in the 403-member Assembly. The Samajwadi Party was second with 111 seats, while the Congress was almost wiped out; the GOP won just two seats.
MUST READ: How the BJP won Uttar Pradesh
Personalise your news feed. Follow trending topics