Anupam Kher on massive success of The Kashmir Files: We had given up hope about cinema
Published on Mar 15, 2022 08:40 PM IST
Actor Anupam Kher says whatever trade pandits say about the formula for a hit film has gone out of the window with The Kashmir Files.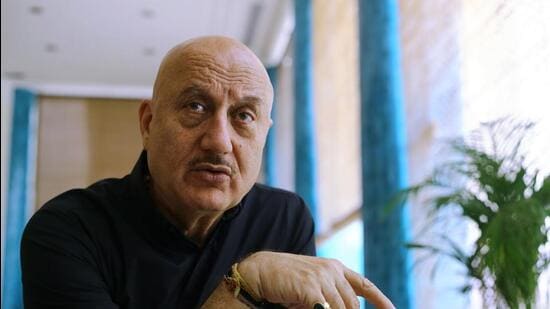 His latest film, The Kashmir Files, has surprised one and all. The response has been unprecedented- majority of it's shows have been houseful, with the number of screens increasing by the day. Anupam Kher says on a personal level, he has a lot of emotions involved in it.
"First of all, I feel the Kashmiri Pandit community who was subjected to this kind of inhuman behaviour, exodus, genocide, who were forgotten for 32 years, I feel the healing may start. The feelings they have gone through, the murders and rapes that happened… four lakh Kashmiri Pandits were thrown out of the valley. The worst part was that nobody really cared for them. That is one part of it," he says.
Adding that the box office collections are encouraging, the 67-year-old says, "I feel euphoric, what an amazing thing to happen. Only cinema can do that. We had given up hope about it, and saying 'teen ghante ki film ahi honi chahiye, this is not a song and dance film, this was not publicized fully'… it's a small triumph. My philosophy 'kuch bhi ho sakta hai' is again underlined."
Kher asserts that the success of a film like The Kashmir Files proves that a well-made film can definitely find an audience. The pre conceived notions of film business, according to the actor, don't apply anymore. "All the theories that pandits of cinema throw at you 'aaj kala isa hona chahiye, vaisa hona chahiye'- aisa kuchh nahi hai. It broke all barriers, that according to me will be a case study of how cinema and audiences have changed. It's hysterical, unbelievable… people I meet at airports, they hug me, they cry. And it has got nothing to do with Kashmiri Pandits. Any human being has that sense of guilt, how could we let this happen in our own country," he shares.
Kher, who also serves as the executive producer for the film, reveals he himself couldn't find tickets, such is the demand, "Maine apne liye book karani thi teen ticket, mujhe nahi mili. I haven't felt so happy about my job."
Personalise your news feed. Follow trending topics