Shah Rukh Khan lauds Deepika Padukone for Besharam Rang despite controversy: 'You need someone of her stature to...'
Jan 18, 2023 05:18 PM IST
Shah Rukh Khan was all praise for Deepika Padukone for their Pathan song Besharam Rang. The film will be released on January 25.
Shah Rukh Khan's Pathaan is only days away from its release. Ahead of the release, the actor commented on co-star Deepika Padukone' and his much-talked song, Besharam Rang. According to him, only someone like Deepika can successfully pull off a song like Besharam Rang. Also read: Shah Rukh Khan heaps praises on 'gentle giant' John Abraham amid reports of tiff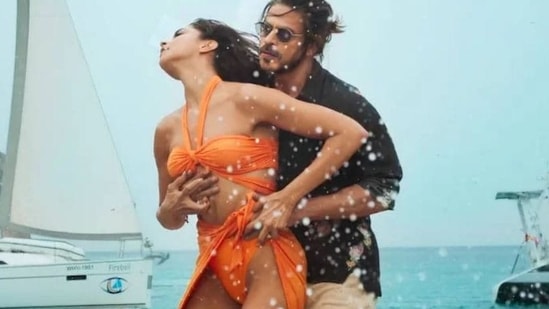 Pathaan is directed by Siddharth Anand. The film has been making news after the release of the first song, Besharam Rang. A section of the people found it objectionable and criticised the choice of costumes and colours including Deepika's saffron swimsuit. The song featured Shah Rukh Khan and Deepika romancing on a beach in Spain.
In a new video shared by Yash Raj Films, Shah Rukh Khan was asked to share his thoughts on Deepika Padukone's character from Pathaan. He said, "You need someone of the stature of Deepika to be able to pull off a song sequence like Besharam Rang and then you know, to be able to do action, where she takes a guy and pulls him right over herself and beats him, she's tough enough to do that too. That kind of a combination could have only been achieved with someone like Deepika. It's quite a layered character for an action film heroine so to say."
"I came to the film industry 32 years ago to be an action hero but I missed the boat because they made me a romantic hero instead. I've only wanted to be an action hero. I mean I love DDLJ and I love Rahul and Raj and all these good sweet boys but I always thought I was an action hero, so for me, it is my dream come true," he further added about playing a solider in Pathaan.
Pathaan also features John Abraham, who plays the role of the antagonist. He leads a terrorist outfit against India and Shah Rukh as Pathaan sets out on a mission to take him down. Deepika, another soldier, joins hands with Shah Rukh. The film will be released on January 25. It will be Shah Rukh's first full-length film in over four years. Shah Rukh was last seen in an extended cameo in Ayan Mukerji's Brahmastra (2022).