Supriya Sule says Shah Rukh, Deepika 'look fabulous'; questions politicians slamming Pathaan: 'Most are jealous of...'
Jan 28, 2023 10:51 AM IST
Shah Rukh Khan and Deepika Padukone are 'looking fabulous' in Pathaan, according to NCP leader Supriya Sule, who also said she will not defend politicians slamming Pathaan.
Supriya Sule, Nationalist Congress Party (NCP) leader, who is currently a Member of Parliament, spoke about Shah Rukh Khan and his film Pathaan in a recent interview. She also spoke about Madhya Pradesh home minister Narottam Mishra, who had earlier demanded a ban on Pathaan. Supriya said Shah Rukh Khan and Deepika Padukone were 'looking fabulous' in Pathaan. The politician added that 'most people were jealous of Shah Rukh Khan'. Also read: After Pathaan's box office success, Kangana Ranaut warns Bollywood to 'stay away from politics'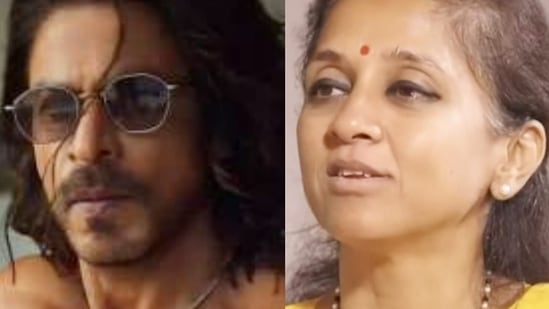 In December 2022, after the Pathaan song Besharam Rang was released, Narottam Mishra had threatened to ban the movie in Madhya Pradesh. He had objected to Deepika Padukone wearing an orange swimsuit in the song. In following weeks, many other political leaders and organisations voiced objections against Pathaan, which alongside Shah Rukh and Deepika, also features John Abraham. The film was released on January 25, and has broken multiple box office records ever since.
When asked to mimic Shah Rukh Khan, Supriya said in an interview with Unfiltered By Samdish on YouTube, "How would I know? Shah Rukh Khan… please, he is the superstar of India. Right now I am just envious of how good he is looking in that movie (Pathaan). Him and Deepika are looking (gestures feeling breathless)… They are looking fabulous! I think most people are jealous of Shah Rukh Khan..." Supriya then responded to being asked if she would defend the comments made about Pathaan by politicians such as Narottam Mishra, "Not at all, I will not defend. I will pick (up) the phone and ask 'bhaiya aap ko kya ho gaya hai (brother, what's wrong with you)?'"
Supriya further said, "But the problem is that why are we even discussing such things. (Late union minister and BJP leader) Arun Jaitley used to say 'aap dikhana band kar dijiye, log bolna band kar denge (if you stop broadcasting, people will stop saying things)'. Sometimes I think Arun ji is right. It is actually irrelevant, and it become so sad because a lot of other colleagues' videos started coming out. This is not why we are here for politics. I am not defending either or..."
Directed by Siddharth Anand, the film also features Dimple Kapadia and Ashutosh Rana. As per trade analysts and film exhibitors, Pathaan's domestic net collection will easily cross ₹225 crore over the first extended weekend and ₹300 crore in a week. As per the Yash Raj Films, the production banner, Pathaan grossed ₹200 crore worldwide in two days of its release.