Vicky Kaushal to play DJ Mohabbat in Almost Pyaar with DJ Mohobbat, reveals Anurag Kashyap; teases new song
Jan 29, 2023 03:17 PM IST
Anurag Kashyap said that Vicky Kaushal will play DJ Mohabbat in his upcoming film Almost Pyaar with DJ Mohobbat. He also teased a new song from the upcoming film.
Filmmaker Anurag Kashyap has revealed that actor Vicky Kaushal will play DJ Mohabbat in his upcoming film Almost Pyaar with DJ Mohobbat. Taking to Twitter on Sunday, Anurag Kashyap shared a post and informed fans and followers on the social media platform. Anurag also posted a motion poster giving a glimpse of Vicky as DJ Mohabbat. (Also Read | Almost Pyaar With DJ Mohabbat trailer: Alaya F, Karan Mehta star in Anurag Kashyap's parallel love stories)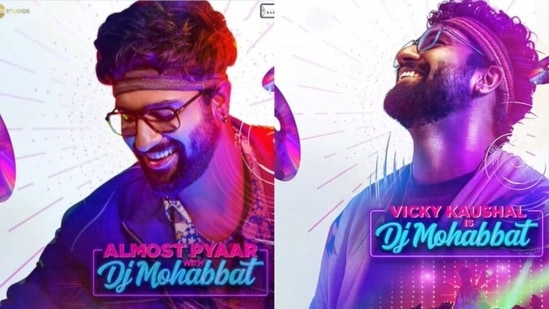 Anurag also revealed that the film's song Mohabbat Se Kranti will be released on Monday. He captioned the post, "Dharti ka seena phaad ke, aasman ke baadal chhant ke... Aa gayi mohabbat... Jo jaayegi kranti! Almost Pyaar with DJ Mohobbat in cinemas February 3…"
Earlier this month, the official trailer of the upcoming romantic drama film was unveiled. On Instagram, Alaya F had shared the trailer which she captioned, "TRAILER IS HERE!!!!!! Mohabbat se hi toh Kranti aayegi...yeh hai uski ek jhalak! Picture aur kranti dono shuru Feb 3rd se! #AlmostPyaarWithDJMohabbat Trailer Out Now."
Talking about the film, Anurag had earlier said, as quoted by news agency ANI, "Almost Pyaar with DJ Mohabbat, is very close to my heart as it's something which has taken shape over the years from my conversations with my daughter. It's a true labour of love with some amazing young actors, great energy, great music by Amit Trivedi with the help of some amazing collaborators like my DP Sylvester and my PD Shazia plus everyone else."
He also added, "It's my going back to my constant exploration of relationships vis a vis the generation which actually defines us and is our future. It's about love and all kinds of prejudices that plagues it. I feel great to move to the next phase of my life with this film."
Helmed by Anurag, the romantic musical also stars Karan Mehta in the lead role. Presented by Good Bad Films and Zee Studios, it is all set to hit the theatres on February 3, 2023.
Almost Pyaar with DJ Mohabbat is touted as an ode to modern love. It takes a look at modern-day young relationships and their exploration in a world plagued with prejudices, predatory behaviour, and the unwillingness from older generations in their acceptance.