Vir Das recalls meeting Shah Rukh Khan at Mannat decades ago: 'He asked if my name's Vir Das or I've come from Vir Das'
Jan 28, 2023 12:43 PM IST
Vir Das revealed what happened when he visited Shah Rukh Khan's residence Mannat. He said the actor heard him out for an hour.
Vir Das has revealed the turn of events when he visited Shah Rukh Khan's house Mannat. The comedian said Shah Rukh and him talked about jokes and had an hour-long chat over 'what's funny'. Shah Rukh is currently making waves for the blockbuster opening of his latest release, Pathaan. Also read: Shah Rukh Khan surprises fans outside Mannat, greets them with his signature pose; fans hail 'last of the stars'. Watch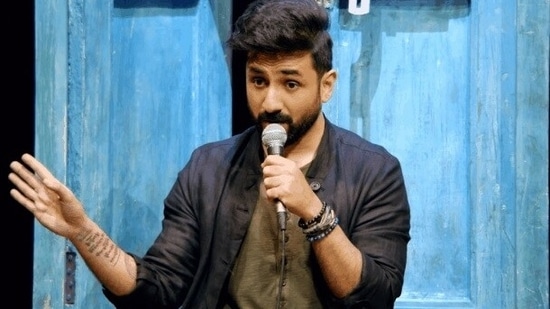 In a new interview, comedian Vir Das shared his experience of visiting Mannat at the age of 25-26 and what all happened after he actually got to meet Shah Rukh inside his house. Vir Das is a comedian and actor, who does stand-up shows across the world.
Talking about his visit to Mannat, Vir Das told Humans of Bombay, "Someone went in and told Shah Rukh 'Vir Das se koi aaya hai (someone has come from Vir Das). So then you walk in and it's the study and everything. He's like, 'is your name Vir Das, or you have come from Vir Das? Which one are you?' I said, 'I have come from Vir Das'. And then we sat down and we were talking about jokes and some joke was written and I was like, 'sir, I don't think that's funny'. He was like, 'okay, okay young blood. You don't think that's funny, come on, tell me what do you think is funny?'"
"And for the rest of the evening, he heard me out. A man at that level is willing to learn from me at 25," he added.
Vir Das returned to Netflix with his new stand-up special 'Landing' in December last year. The hour-long programme, also directed by him, was all about travelling the world, carrying one's country with them, and the notion of home. His last stand-up special 'Vir Das: For India' was nominated for a 2021 International Emmy in the best comedy category.
Shah Rukh was recently seen in the action film Pathaan, also starring Deepika Padukone and John Abraham. The film recorded the highest opening for a Bollywood film and continues to break and make records at the worldwide box office.