Bommai Nayagi review: Pa Ranjith highlights underprivileged community's never-ending fight for justice with sensitivity
Feb 03, 2023 12:22 PM IST
Bommai Nayagi movie review: Tamil film backed by Pa Ranjith is an impressive take on the hard and never-ending fight the underprivileged have to fight for justice and how their lives become meaningless when they're stuck in that whirlpool.
Pa Ranjith's Neelam Productions has been consistently telling stories that really matter. Each one of the films made under the production banner have gone beyond the sole purpose of entertainment and their latest offering, Bommai Nayagi, is no different. The Yogi Babu-starrer addresses yet another social issue. However, it does so with a lot of sensitivity and deep understanding of the issue. The film is an impressive take on the hard and never-ending fight the underprivileged have to fight for justice, and how their lives become meaningless, when they're stuck in that whirlpool. Also read: Rajinikanth praises Natchathiram Nagargiradhu; Pa Ranjith reacts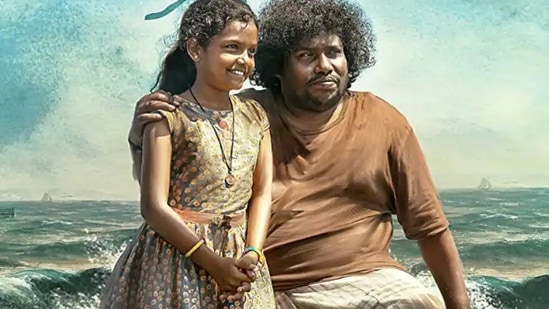 The film is based on the life of a small family with no big aspirations. Yogi Babu plays Velu, a worker in a tea shop in Cuddalore. The film opens with a beautiful shot of Velu waking up from his sleep and lying next to him are his wife and his nine-year-old daughter Bommai Nayagi, who is named after the family God. The opening shot beautifully illustrates the world of Velu, whose life revolves around his family and his small dream of owning a tea stall. Velu's world is shaken, when his daughter is sexually abused by influential men belonging to the upper caste. Ironically, the incident takes place during the village's temple festival and the victim is a girl named after the local God. The rest of the story is about Velu's fight for justice.
It's amazing how first-time writer-director Shan tries to address multiple issues in the same film. As much as the film is about a father's fight for justice, and how the judiciary is flawed, it also throws the spotlight on how caste politics continue to play a crucial role in people's lives. The film has a very interesting sub-plot featuring Velu and his step-brother Senthil (Arul Doss), who is an influential man with some political ambition. Senthil has a soft corner for Velu, but he's helpless because he rubs shoulders with people, who belong to the upper caste and their votes matter for him. Unlike other Ranjith's films that focus more on caste discrimination, Bommai Nayagi brings to the forefront how the fight for justice is not a cakewalk for the underprivileged. It treats the issue of sexual harassment with a lot of sensitivity, and in a way it gives strength to people to open up and fight for justice.
Yogi Babu, who is mostly reserved for playing comical roles, is slowly evolving as an actor with a lot of untapped potential. After proving himself in an author-backed full-fledged role in Mandela, he returns to play Velu with the kind of restraint and helplessness that's hard to explain. The supporting cast, too, plays their respective roles very effectively. Subatra, who plays the mother, is terrific in the limited screen time she gets. This is a film that's heavily benefitted by strong performances from the ensemble cast. The legal angle in the story is depicted with a lot of realism. Bommai Nayagi will definitely go down as one of the most important films of the year.
Film: Bommai Nayagi
Director: Shan
Cast: Yogi Babu, Subatra, Harikrishnan, GM Kumar and Arul Doss
ott:10