Chahatt Khanna on spat with Uorfi Javed: My personal life is abrupt, but it is not because of my choice
Jan 24, 2023 03:56 PM IST
Actor Chahatt Khanna opens up about her public spat with Uorfi Javed, and the stigma of being a single mother
Actor Chahatt Khanna has had several virtual spats with Uorfi Javed, with the latter bringing up Khanna's personal life in the tussle. And Khanna admits that this particular thing bothers her a lot every time.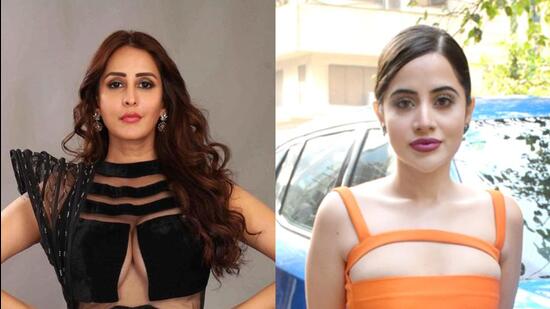 "I am not here to play victim or single mother card, but want it to be normalised," Khanna says, adding that she didn't understand why Javed mentioned her personal life when she made a comment about her dressing style.
She continues, "Jab kuch aur bolne ke liye nahi hoga toh you will look for things in your personal life only. Kuch toh bolna hai na. I am not the one wearing thongs, walking on the streets for spotting. Yes, my personal life is abrupt, but it is not something I have done deliberately."
The actor further asserts that nobody chooses to have an abrupt personal life. "I am not getting divorced after divorced because I enjoy it, or like it. It is not my choice. But wearing a G-string for spotting is something which you are doing as your choice and something which you enjoy. It is a very different thing."
While Khanna tries not to take such comments to heart, there are times when they bother her. "I remember at that time I had switched off my comments on social media because I was getting trolled so badly. It does bother you because it comes with a lot of negativity," she says.
Here, the actor also reveals that being a single mother and working in showbiz still remains a stigma.
"Finding work as a single mother is tough when people mention that agar yeh situation nahi hota toh things would have been different. Every time it is a challenge to step out and find work. Most of the time you are out down for being your real self. It is the only reason why people hide their marital status several times," she says.
Khanna further feels that only a select few in the industry are liberated. "Only 10 percent is liberated, what about the rest of 90 per cent. I don't want people to take it as my power, stigma or anything but just any other normal thing," she ends.