Tina Datta asks her mom with Shalin actually loves her; she says: 'Koi pyaar vyaar nahi hai'
Jan 11, 2023 06:28 PM IST
Bigg Boss 16: Tina Datta asked her mom, Madhumita Datta about Shalin Bhanot's feelings for her. Her mother said it is fake and there is no love from his side. Tina asked her mom to remain calm in front of Shalin Bhanot's mother.
In the latest Bigg Boss 16 episode, Tina Datta asked her mother, Madhumita Datta whether Shalin Bhanot loves her or not, as she her mother entered the house during the family special week. Tina discussed openly about her relationship with Shalin. Her mother expressed Shalin does not love her and there is nothing from his side. Tina requester her mother to remain calm as soon as Shalin's mother entered the house. She says to her, "Koi tamasha nahi chahiye (I do not want any drama now)." Many fans reacted to the promo shared by ColorsTV. (Also read: Tina Datta tells her mom to remain calm in front of Shalin Bhanot's mother on Bigg Boss 16: 'Koi tamasha nahi chahiye')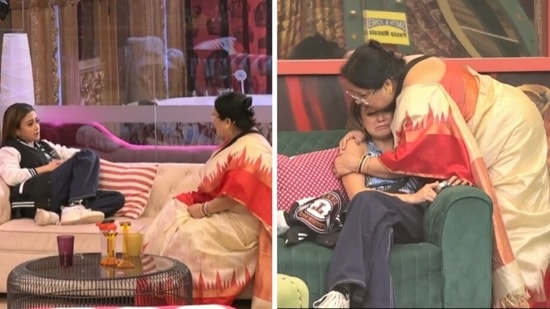 ColorsTv shared the promo on their social media handles with the caption, "Shalin aur Tina bane clash of moms ke shikaar (Shalin and Tina became victims because of clashes between their mothers)."
The promo opened with Tina's mom entering the Bigg Boss house. She gave him a warm hug to her daughter and said, "Tina mai bohot proud feel karti hoon, jo das ladke nhi kar paaya tune ek ladki hokar karke dikhaaya (Tina, I feel so proud of you, what 10 boys cannot do, you have done that being as a girl)." Tina sat with her mom on a sofa, and asked, "Mummy kya sach mai pyaar karta hai, aapko lagta hai (Does he really love me?)" with reference to Shalin. Her mother replied, "Nhi, koi pyaar vyaar nhi hai (He does not love you at all)."
Then, Shalin's mom entered the house. Tina sat with her mom in the garden area, and said, "Mom, kuch chahiye nahi ki tamasha ho (I don't want any drama to take place now)." Immediately, her mom said, "Tension mat le (Don't take stress). Main teri maa hu, tu meri beti hai, tu meri maa nahi hai (I am your mother, you are my daughter, don't try to act as if you are my mother)."
Reacting to the clip, one person commented, "Tina ki mom bhi negative vibes lekar phirti hai (Even Tina's mom gives negative vibes)." Another person wrote, "Shalin ki mummy achi hai (Shalin's mom is nice)." Other person commented, "Tina sabse fake hai..uski mom uski galtiyon ko chupaane ki koshish karti hai..(Tina is the fakest of all, her mom tried to hide her mistakes)." "Tina..kam se kam apni mummy ko influence mat karo (Tina, don't influence your mother)", added one.
In the recent episode, Tina and Shalin questioned each other's feelings as he accused her of faking her emotions on camera. Also, the host of the show, Salman Khan scolded the two regarding their closeness during MC Stan's new year concert. Tina clarified that she was not falling in love with Shalin, as both of them almost shared a kiss as they danced together, which was noticed by other housemates.